FR / EN
digital art | interactive installation | media art | interactive design | digital artist
News | Artworks | Biography | Publications | Exhibitions | Contact
Scenocosme : Gregory Lasserre & Anais met den Ancxt
Gregory Lasserre and Anais met den Ancxt are two artists who work together as a duo under the name Scenocosme.
They develop the concept of interactivity in their artworks by using multiple kind of expression : art, technology, sounds and architecture.
They mix art and digital technology in order to find substances of dreams, poetries, sensitivities and delicacies. They also explore invisible relationships with our environment: they can feel energetic variations of living beings. They design interactive artworks, and choreographic collective performances, in wich spectators share extraordinary sensory experiences.
Interactive and digital art, installation, design, music, architecture... are combined in the projects realised by Scenocosme.


Current and upcoming exhibitions
Labanque / Centre de production et diffusion en arts visuels - Béthune (Fr)
Empathies - Scenocosme : Gregory Lasserre & Anais met den Ancxt
Curator : Philippe Massardier
Several new artwork : Cogito Ergo Sum, Marée noire, Membranes etc...
+ Metamorphy, Rencontres imaginaires, Matière noire : Vide et matière, Echos, Phonofolium, Matières sensibles, Lights contacts
30/03/2017 : opening
01/04/2017 - 23/07/2017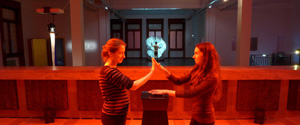 Surrey Art Gallery / Chuck Bailey Recreation Centre - Surrey (Canada)
Urban Screen / Canada's largest non-commercial outdoor urban screen dedicated to presenting digital and interactive art
Curator : Alison Rajah, Liane Davidson
Support by : Consulat général de France à Vancouver
Rencontres imaginaires


until 07/05/2017



Espace culturel MAIF Social Club - Paris (Fr)
Iconomania : Curator : Florence Guionneau-Joie
Akousmaflore
until 30/03/2017

Musée Bargoin - Clermont-Ferrand (Fr)
Verdures : du tissage aux pixels
Akousmaflore


until 21/05/2017



Festival Les Composites - Compiègne (Fr)
Espace Jean Legendre
La maison sensible


until 02/04/2017



Parc Galéa - Musées et Jardins - Taglio-Isolaccio / Corse (Fr)
Akousmaflore


until 28/10/2017



La Passerelle / centre culturel du Pays de La Gacilly - Gacilly (Fr)
Frontières Intimes
Akousmaflore, Rencontres imaginaires, Lights contacts


24/03/2017 - 12/04/2017



Festival Electrochoc / Les Abattoirs - Bourgoin-Jallieu (Fr)
SphèrAléas
25/03/2017
30/03/2017

MEG - Musée d'ethnographie de Genève - Genève (Swizerland)
Festival Histoire et Cité
"Croire, faire croire"
Metamorphy
30/03/2017 - 02/04/2017

28èmes Rencontres Cinéma-Nature : Festival de nature et d'environnement - Dompierre-sur-Besbre (Fr)
Phonofolium, Pulsation, Kymapetra
07/04/2017 - 09/04/2017

Festival Electrochoc / Les Abattoirs - Bourgoin-Jallieu (Fr)
Metamorphy, Rencontres imaginaires


06/04/2017



Festival Zéro 1 / Art Numérique - La-Rochelle (Fr)
Lights contacts


13/04/2017 - 16/04/2017









Future exhibitions
- EDIS / Fonds de dotation à l'art des nouveaux médias
Musée Louis Vouland
"Hortus 2.0"
Curator : Véronique Baton
- Festival Chromatic - Montréal (Canada)
Arsenal contemporary art space
- Espace Culturel Moulay Ali - Marrakech (Morocco)
Institut Français de Marrakech
- Festival International d'Art Video de Casablanca - Casablanca (Morocco)
Institut Français de Casablanca
Curator : Majid Seddati
- Museum Daniel Spoerri - Hadersdorf-am-Kamp (Austria)
Curator : Daniel Spoerri & Barbara Räderscheidt
- Festival Bonjour India - New Delhi (India)
Ambassade de France en Inde
Institut français en Inde
- Fondation Claude Verdan / Musée de la main UNIL-CHUV - Lausanne (Swizerland)
- Dubai Digital Arts Festival - Dubai (UAE)
- Lumen Prize Exhibition Tour
- Jin Space & Gallery - Shanghai (China)
- NYIT Auditorium on Broadway - New York (USA)
- Canary Wharf Winter Lights Festival - London (UK)
- Caerphilly Castle - Caerphilly (UK)
- Creative Tech Week - New York (USA)
- Centre d'Art Contemporain Frank Popper - Marcigny (Fr)
Curators : Georges Silva, Franz Spath
- Déambule - festival des paysages - Annecy (Fr)
- Château et Parc de Champs-sur-Marne - Champs-sur-Marne (Fr)
Nuit des musées
- Orangerie du château de la Louvière - Montluçon (Fr)
Art graphique, art numérique : Curator : Lucie Bisson
- Festival Les Jours de Lumière / Arts contemporains et spiritualité - Saint-Saturnin (Fr)
Les transparences
- Lab71 / Science Innovation Culture / Département de Saône-et-Loire - Dompierre-les-Ormes (Fr)
- Médiathèque de Seynod - Seynod (Fr)
- Pôle Land Art Départemental de la Ferme de Chosal - Copponex (Fr)
Curator : Régine Raphoz
- L'Angle - espace d'art contemporain - La Roche-sur-Foron (Fr)
- Festival Electrochoc - Bourgoin-Jallieu (Fr)
- Biennale d'art contemporain Arts Atlantic
La Chapelle des Dames Blanches - La Rochelle (Fr)
Convergence(s)
- Office National des Forêts / Odyssée Verte - Annemasse (Fr)




Artworks / Installations

Lights contacts
An interactive sound installation with body and skin from public (Interactive Installation)




Akousmaflore : Sensitive and interactive musical plants
(Installation and interactive space)




Metamorphy : (Interactive Installation)




Fluides : liquid interactive installation




Ecorces : Visual and sonorous interactive artwork
interrelations between human heat and flesh of wood




Souffles : Interactive installation evolving with the rhythm of the breathing of the spectators.




Kymapetra : The singing stones (Interactive Installation)
Installation sonore interactive




SphèrAléas : interactive / sound / image installation
(Installation and interactive space)




Alsos* : Sound creation comes from light intensity
(Installation and interactive space)




Matières sensibles : Sound Sculpture on wood
Interactive marquetry & Bio hacking




Rencontres imaginaires : Behavioral interactive videos works




Firmament éphémère : Performance / concert
(Interactive performance)




Ombres incandescentes : (Interactive Installation)




Phonofolium : Interactive and sonorous tree




Phonofolium et Lux : Interactive lighting and sonorous tree




Echos : Sound installation




Ecumes : Interactive installation wood and video




Dilution : interactive installation




Domestic plant : interactive installation




Rencontres réelles et imaginaires : Immersive interactive space




La maison sensible : Interactive installation




Dark matter : Vacuum and matter : Visual and sound interactive artwork




Dark matter : Quantum fog : Visual and sound interactive artwork




Dark matter : The discrete symmetries : Visual interactive artwork




Scenocosme : Gregory Lasserre & Anais met den Ancxt - www.scenocosme.com