FR / EN

News | Artworks | Biography | Publications | Exhibitions | Contact
Matières sensibles (Sensitive matters)
Sound Sculpture on wood / Interactive marquetry & Bio hacking
Scenocosme : Grégory Lasserre & Anaïs met den Ancxt



Presentation PDF + Photos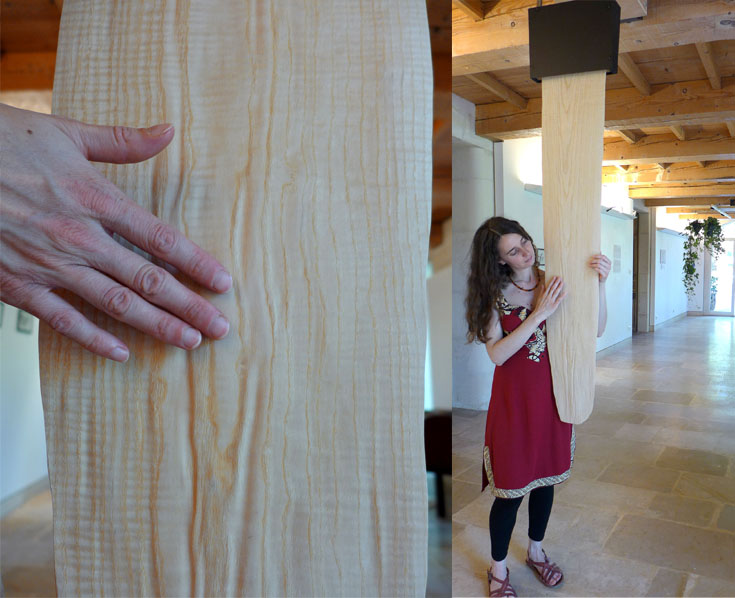 Matières sensibles (Sensitive matters) is a serie of sculptures made of very thin and delicate wood veneer sheets. Here the artists use ash wood. These sheets of wood have distinct sonorous touch zones that follow the natural veins of wood. The researches of Scenocosme have enabled them to develop an artistic and technical process invisible and delicate.

A meticulous and invisible design work gives them the ability to define a musical score spread over different areas of the wood. They have invented this process of Bio hacking that they call «interactive marquetry».

Their wood sculptures produce sounds when the spectators touch them. They use sounds to stimulate haptic and gestural behaviour. Thus, the design of these sculptures looks like instruments which reveal by the touch various kind of sounds. According to sculptures, the relation can be sonorous or at the same time visual and sonorous.

Since many years, Scenocosme's artists invent interactive works through a singular process of hybridizations between natural elements and technology. They create symbolic and sensorial relationships between the body and the environment natural or social. These wood sculptures offer a sensory and intimate relationship between the wood and the body of the viewer by revealing a sound memory in physical contact with the matter. The electrostatic energy of the human body is the trigger for this artwork. Interactive zones follow exactly the veins of wood.

This artwork has received
the Human Interface Award / Phaenomenale / Science & Art Festival / Phaeno Science Center - Wolfsburg (Germany)

Collection : FRAC Alsace / Fonds régional d'art contemporain - Sélestat (Fr)


Matière sensible 1


ZKM | Center for Art and Media Karlsruhe - Karlsruhe (Germany)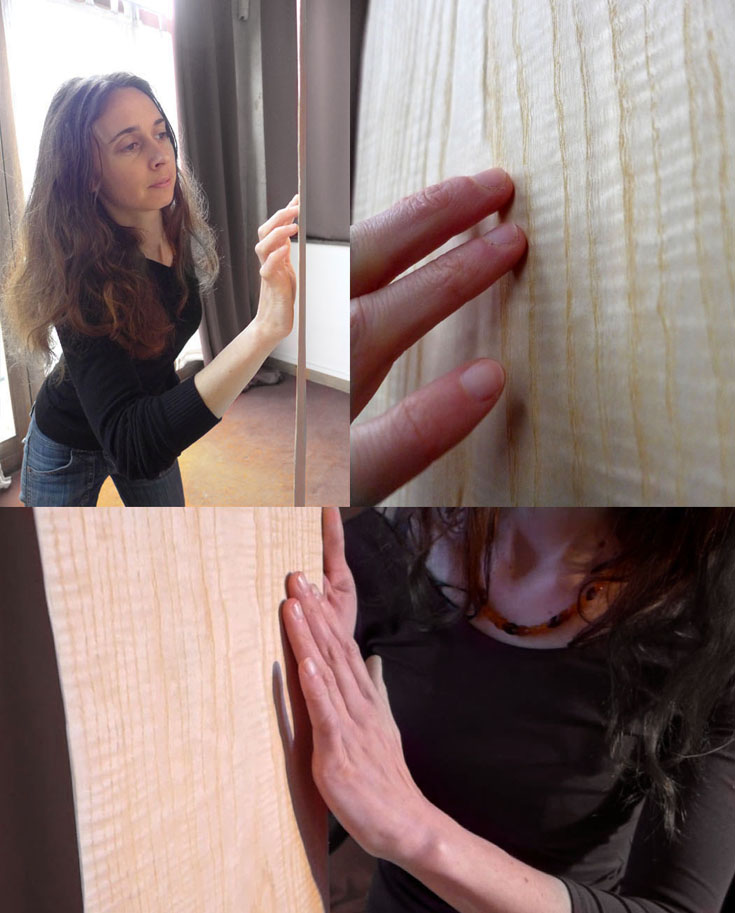 Matière sensible 1



Matière sensible 1




This second sculpture was design like an instrument. It's reveal by the touch a visual and sonorous memory.
This version of the artwork is put on a pedestal and exhibited in the dark.
A videoprojector behind the sculpture reveals a video mapping connected to each sonorous zones of the wood.





Centre culturel de rencontre Parc Jean-Jacques Rousseau - Ermenonville (Fr)


Matière sensible 2






Sheet of wood + wire for each zones + interactive device + speakers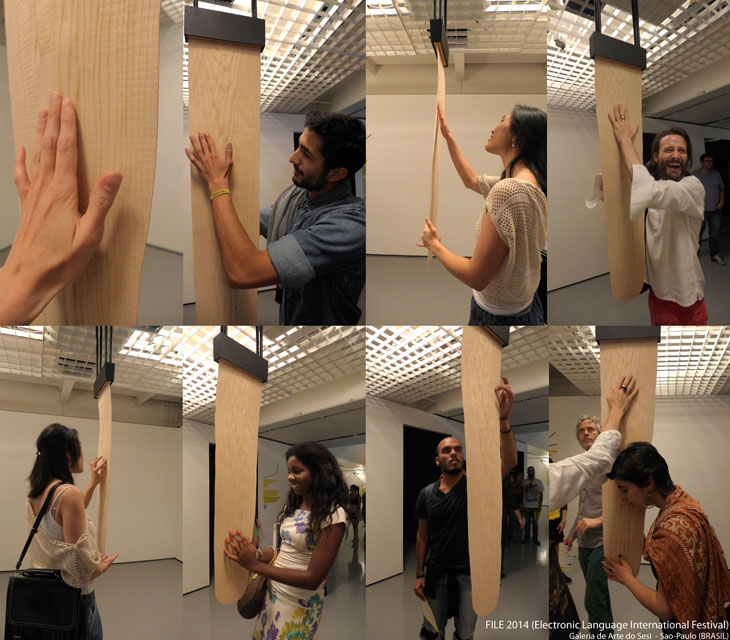 FILE (Electronic Language Festival) / Galeria de Arte do Sesi - Sao-Paulo (Brazil)



Previous exhibition of Matières sensibles

Frac Alsace "Hors les murs" / CFMI - Sélestat (Fr)
"FRAC40 Sur les sentiers d'une collection"
Curator : Felizitas Diering


01/10/2023 - 01/11/2023

: www.frac.culture-alsace.org

Festival Experimance - Sarrebruck (Germany)
Curators : Kathrin Lambert, Katharina Hamp


14/07/2023 - 16/07/2023

:

www.experimance.de

Festival Canal Connect / Teatros del canal - Madrid (Spain)
Arte, Ciencia y Tecnología
"Máquina Orgánica"
Curator : Charles Carcopino


23/03/2023 - 23/04/2023

: www.teatroscanal.com

Centre culturel Le Cap - Plérin (Fr)
Curator : Mickaël Le Coquen


Exposition personnelle


"Existence végétale"


01/04/2023 - 30/04/2023



Théâtre du parc - Andrézieux-Bouthéon (Fr)
Curator : Patrice Melka


Exposition personnelle




27/04/2023 - 26/05/2023



Musée de Vence / Fondation Émile Hugues - Vence (fr)
Curator : Jean Iborra


Exposition personnelle




29/01/2022 - 12/06/2022

:

www.museedevence.fr

Biennale Internationale Saint-Paul de Vence - Saint-Paul de Vence (Fr)
Espace André Verdet
Curator : Catherine Issert


26/06/2021

-

02/10/2021

:

www.bis-art.com

Musée Historique de Haguenau - (Fr)
"Forêt contemporaine"
Curator : FRAC Alsace


05/06/2021 - 10/10/2021



Médiathèque du Chevalet - Noyon (Fr)
Curator : Stéphane Capes


13/05/2021

-

13/07/2021



Collection du FRAC Alsace
Les Ateliers de la Seigneurie d'Andlau - Andlau (Fr)
"La Poésie des matériaux"
Curator : FRAC Alsace


05/09/2020 -

30/12/2020



Maison folie le Colysée / centre culturel - Lambersart (Fr)
Curator : Céline Bourbiaux


12/09/2020 -

28/02/2021



Département des Bouches-du-Rhône
"Tous aux arbres !"
Médiathèque Municipale Marc Mielly - Noves (Fr)


28/09/2020 - 30/01/2021



FRAC Alsace / Fonds régional d'art contemporain - Sélestat (Fr)
Ré-flexions
Curator : Felizitas Diering


01/03/2019 - 19/05/2019

: www.frac.culture-alsace.org

CCSTI La Rotonde / Centre de culture scientifique - St-Etienne (Fr)
Curator : Guillaume Desbrosse
Solo show
15/06/2019 - 22/06/2019 : www.larotonde-sciences.com

"Territoire numérique" / Médiathèques d'Epernay (Fr)
Solo show


20/10/2018 - 17/11/2018



Espace Fondation EDF - Paris (Fr)
La belle vie numérique !
Curator : Fabrice bousteau


16/11/2017 - 18/03/2018

:

https://fondation.edf.com/fr/expositions/toutes-nos-expositions

Odyssud - Centre culturel - Blagnac (Fr)
Rencontres Sensibles - Scenocosme : Gregory Lasserre & Anais met den Ancxt
Curator : Maud Denjean


22/09/2017 - 23/12/2017

: www.odyssud.com

L'Angle - espace d'art contemporain - La Roche-sur-Foron (Fr)
Résonance - Scenocosme : Gregory Lasserre & Anais met den Ancxt
Curator : Marion Dupressy
08/09/2017 - 21/10/2017

:



Labanque / Centre de production et diffusion en arts visuels - Béthune (Fr)
Empathies - Scenocosme : Gregory Lasserre & Anais met den Ancxt
Curator : Philippe Massardier
01/04/2017 - 23/07/2017

:

www.lab-labanque.fr

ECAM - Espace Culturel André Malraux - Le Kremlin-Bicêtre (Fr)


13/01/2017 - 28/01/2017 :

www.ecam-lekremlinbicetre.com

Palais de l'Archevêché / Octobre Numérique - Arles (Fr)


07/10/2016 - 30/10/2016 :

www.octobre-numerique.fr

Le Déclic / Auditorium - Claix (Fr)
Curator : Mickael Cohen


08/09/2016 - 05/12/2016

:

ISEA 2016 Hong Kong International Symposium on Electronic Art - (Hong Kong)
Creative Media Centre, City University of Hong Kong
Cultural R>evolution
Curators : Kyle Chung, Harald Kraemer
16/05/2016 - 22/06/2016 : http://isea2016.isea-international.org

Abbaye bénédictine Saint-Fortuné de Charlieu - Charlieu (Fr)
Résonances végétales et minérales
18/06/2016 - 18/09/2016 : www.loire.fr/jcms/c_576172/labbaye-benedictine-de-charlieu

La Ferme d'en Haut - fabrique culturelle - Villeneuve-d'Ascq (Fr)


13/05/2016 - 03/07/2016 :





ZKM | Center for Art and Media Karlsruhe - Karlsruhe (Germany)
Globale : Exo-Evolution
Curator : Peter Weibel, Sabiha Keyif, Philipp Ziegler, Giulia Bini
30/10/2015 - 28/02/2016 : www.zkm.de

Biennale La Science de l'Art - Essone (Fr)
Médiathèque Jean Cocteau - Massy (Fr)
Mémoire


05/12/2015 - 19/12/2015

: www.collectifculture91.com

Phaenomenale / Science & Art Festival
Phaeno Science Center - Wolfsburg (Germany)


Human Interface Award 2015


17/09/2015 - 27/09/2015 : www.phaenomenale.com - www.phaeno.de

Lille3000 / L'Odyssée Médiathèque de Lomme - Lomme (Fr)
Quinzaine des arts du futur (Maison Folie Beaulieu)
Renaissance (Lille3000)


10/10/2015 - 04/11/2015



Fort du Bruissin centre d'art contemporain - Francheville (Fr)
Vivant Numérique - Curator : Igor Deschamp
29/04/2015 - 19/07/2015 : www.mairie-francheville69.fr/index.php/Centre-d-art-contemporain?idpage=110

Espace Victor Hugo, pôle culturel - Ploufragran (Fr)


18/05/2015 - 30/05/2015



Musée de Millau et des Grands Causses - Millau (Fr)
Scenocosme : Rencontres sensorielles


06/12/2014 - 28/02/2015 :

www.museedemillau.fr

Galerie d'Art contemporain de la ville de Talant - Talant (Fr)
Espace culturel Georges-Brassens


20/01/2015 - 14/02/2015






FILE 2014 (Electronic Language International Festival) - Sao-Paulo (Brazil)
Galeria de Arte do Sesi
In the digital Tracking / Curator Ricardo Barreto & Paula Perissinotto


25/08/2014 - 01/10/2014 :

www.filefestival.org

MAG - Montreux Art Gallery - Montreux (Switzerland)
Montreux Music & convention centre
Art & New media Selection
05/11/2014 - 09/11/2014 : www.mag-swiss.com

Château de Saint-Priest - Saint-Priest (Fr)


08/10/2014 - 12/10/2014



Congrès mondial acadien 2014
Pavillon de la France - Grand-Falls / New-Brunswick (Canada)
Soutien : Institut Français + Ville de Saint Etienne
Consulat Général de France dans les Provinces atlantique


14/08/2014 - 24/08/2014 :



Musée Savoisien / Nuit des musées - Chambéry (Fr)


17/05/2014 - 18/05/2014 :

www.musee-savoisien.fr

Unpainted / media art fair - Munich (Germany)
17/01/2014 - 20/01/2014 : www.unpainted.net

La Serre - espace d'exposition - St Etienne (Fr)


15/01/2014 - 15/02/2014



Centre culturel de rencontre - Parc Jean-Jacques Rousseau - Ermenonville (Fr)


18/10/2013 - 20/10/2013 :

www.parc-rousseau.fr

A-part, festival international d'art contemporain - Saint-rémy-de-provence (Fr)
Le Château des Alpilles / La nature réinventée par elle-même : des sons et des formes
Réinventons notre nature par tous les sens : Curator : Ariel Kyrou, Leïla G.Voight
05/07/2013 - 25/08/2013 : www.festival-apart-2013.com

Galerie H+ Lyon (Fr)
12/04/2013 - 29/05/2013 : www.h-pl.us



Scenocosme : Gregory Lasserre & Anais met den Ancxt - www.scenocosme.com