FR / EN

News | Artworks | Biography | Publications | Exhibitions | Contact
Alsos
Sounds comes from light intensity
Scenocosme : Grégory Lasserre & Anaïs met den Ancxt

Presentation PDF + Photos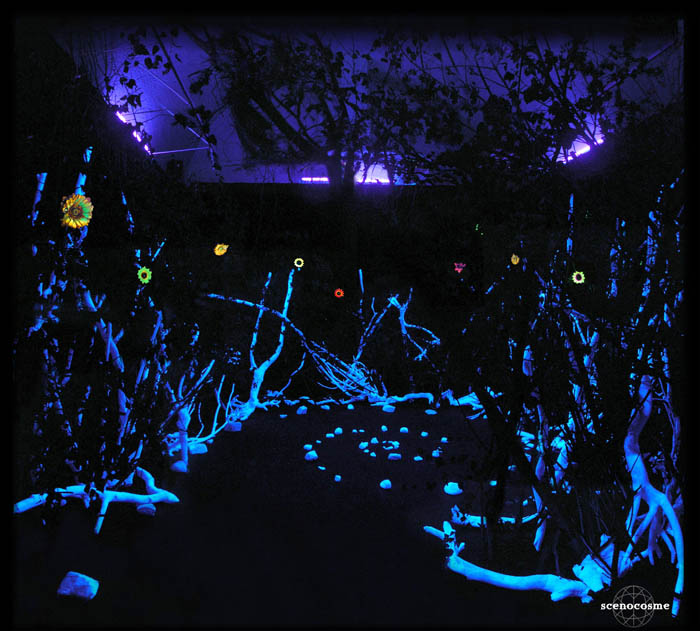 Alsos is an interactive clearing in a small fantastic forest.

Alsos installation was born with the idea to link nature and technology
This artwork suggests a relationship between living world and technology : a possible hybridization with a digital plant. In this installation, the audience can interact on a sound world ready to awaken.

In this installation the visitors share sonorous experiences. The clearing is both an intimist space and a place for meetings. The black light transforms the space and changes the perceptions.
The audience explores the space with flash-lights or with the light from their smartphones. They illuminate the fluorescent flowers in the branches.
Each flower reacts by different sounds. The pitch of the sound is evolving according to the intensity of the lights.

The fluorescent flowers react to the luminous flows modifications. They camouflage light sensors in their pistil.
The luminous impulses and variations are sent to a data-processing program on a computer which transform them into various sounds.

The gestures and the movements of the spectators allow to generate sound effects and to change textures of the sound.Each flower having a different sound, the sound universe evolves according to light intensities, and hazards of public interventions.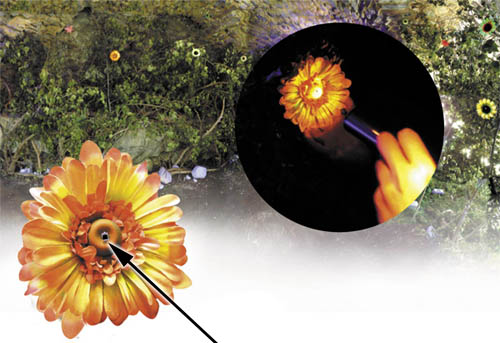 light sensor







Alsos* - Interview
(Montage Vidéo : Jérôme Avril / Castin'prod)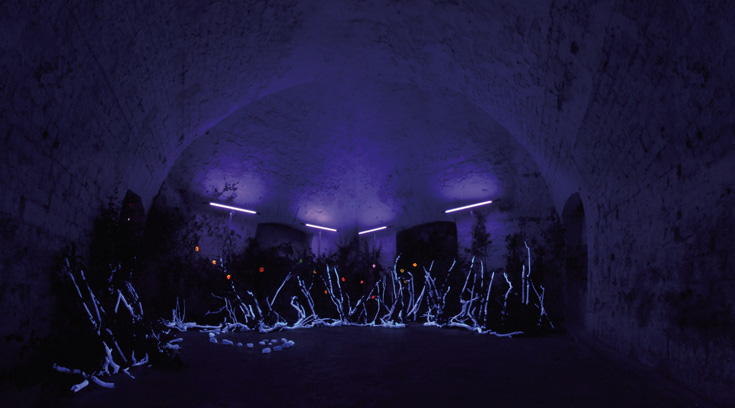 Bastion - Besançon (Fr)




Festival Streamfest - Festival di arti elettroniche - Lecce (Italia)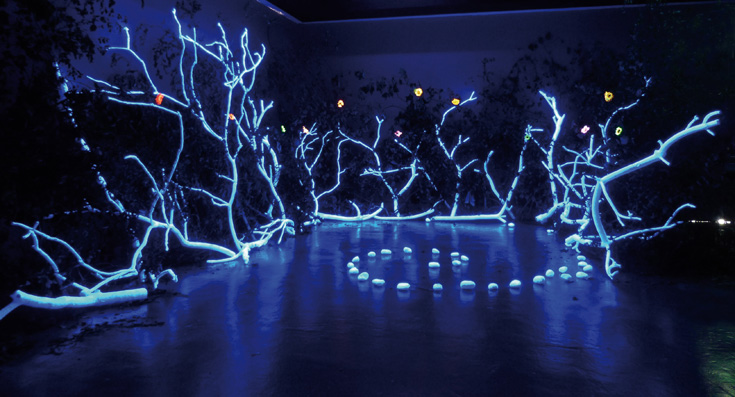 Watermans New Media Gallery - Brentford-London (UK)


Previous exhibitions of Alsos

Maison Folie Hospice d'Havré - Tourcoing (Fr)
Curator : Myriam OTHMAN / Lille300
Reconnexion


Exposition personnelle




12/05/2022 - 23/10/2022



The Festival of Curiosity - International festival of science, art, design & technology.- Dublin (Irland)
Science Gallery


18/07/2019 - 22/07/2019

:

www.festivalofcuriosity.ie

Dak Nong Cultural Museum - Gia Nghia (Vietnam)
Explorasound
Curator : Guy Martini / UNESCO


30/06/2019 - 30/12/2022

: www.daknonggeopark.com/explorasound-the-first-museum-of-sounds-in-vietnam-and-in-southeast-asia/

L'arteppes - espace d'art contemporain - Annecy (Fr)
Solo show


29/11/2018 - 30/12/2018

:

www.larteppes.org

Galerie du Beffroi - Namur (Belgium)
Jardin des sens


13/12/2018 - 20/01/2019



Festival Aujourd'hui Musiques - Perpignan (Fr)
Théâtre de l'Archipel Scène Nationale de Perpignan


18/11/2016 - 27/11/2016

: www.theatredelarchipel.org - www.aujourdhuimusiques.com

Espace culturel Puzzle / Troisième lieu - Thionville (Fr)
DESconnexions
Curators : Charline Roch, Thierry Benoit, Caroline Rinaldi


30/09/2016 - 02/10/2016 :



Château prieuré de Pommiers-en-Forez - Pommiers (Fr)
Résonances végétales et minérales
18/06/2016 - 18/09/2016 : www.loire.fr/jcms/c_576203/bienvenue-au-prieure-de-pommiers

Musée d'Art et d'Industrie de Saint-Etienne (Fr)
21/05/2016 - 21/05/2016

:

www.musee-art-industrie.saint-etienne.fr

Festival Aux Actes Citoyens / Espace Jean Jaures - Tomblaine (Fr)


14/05/2016 - 21/05/2016 :



Chapelle de l'espace Aignan-Thomas Desfriches de la Média-bibliothèque du Val - Olivet (Fr)


12/01/2015 - 31/01/2015



Médiathèque François Mitterrand - Bassens (Fr)


27/01/2015 - 31/01/2015



Château de Saint-Priest - Saint-Priest (Fr)


08/10/2014 - 12/10/2014



Nuit Blanche - Saint-Denis (La Réunion)


11/10/2014 - 11/10/2014



Singapore night festival - (Singapore)
Curated by National Museum of Singapore


22/08/2014 - 30/08/2014 :

www.brasbasahbugis.sg/nightfestival

Forum des Sciences Centre François Mitterrand - Villeneuve d'Ascq (Fr)


06/01/2014 - 09/01/2014



Abbaye de l'Escaladieu - Horizons numériques - Bonnemazon (Fr)


07/09/2013 - 08/09/2013



Shakers Lieux d'Effervescence - Montluçon (Fr)


15/06/2013 - 15/06/2013 :

www.shakers.fr

Grand Site Solutré Pouilly / Musée départemental de Préhistoire - Solutré-Pouilly (Fr)
Exposition personnelle : Résonances végétales


28 avril - 31 nov 2013



Espace culturel Saint-André - Abbeville (Fr)


09 nov - 21 dec 2012



Halle du Jeu de Paumes - Vic-le-Comte (Fr)


25 juin - 30 aout 2012



Watermans - New Media Gallery - Brentford-London (UK)
Curator : Irini Papadimitriou
Soutien : Institut Français


06/07/2011 - 30/09/2011 :

www.watermans.org.uk

London Design Festival - London (UK)


17/09/2011 - 25/09/2011 :

www.londondesignfestival.com

Espace Jean Jaurès - Tomblaine (Fr)


04/06/2011 - 11/06/2011 :



Jardin botanique alpin La Jaÿsinia - Journées Botaniques 2011 - Samoëns (Fr)


11/06/2011 - 11/06/2011 :



Centre Culturel Le Cap - Plérin (Fr)


01/05/2011 - 14/05/2011 :



Festival Electrochoc / Arobase - St-Quentin-Falavier (Fr)


13/04/2011 - 14/04/2011 :



Centre de la Vallée « S. Allende » - Saint-Malo (Fr)


23/09/2010 - 30/10/2010 :



Médiathèque François-Mitterrand - Saintes (Fr)


27/03/2010 - 27/03/2010 :



Festival duch'air(e) - Lyon (Fr)


26/06/2010 - 26/06/2010 :



Maison du tourisme de l'eau et de la nature - Pont-de-Vaux dans l'Ain (Fr)


17/12/2009 - 16/03/2010 :



Festival Libellul'Express - Ecaille (Fr)


05/06/2009 - 07/06/2009 :



Le Millenium - L'Isle d'Abeau (Fr)


01/04/2009 - 07/04/2009 :



Centre arc en ciel - Liévin (Fr)


10/10/2008 - 08/11/2008 :

www.arcenciel-lievin.fr

Festival Musiques de rues / Nouveau territoire des arts sonores - Besançon (Fr)


02/10/2008 - 05/10/2008 :



Musée départemental de Préhistoire d'Ile-de-France - Nemours (Seine-et-Marne) (Fr)
Scenocosme : Alchimie des sens


20/09/2008 - 29/09/2008 :

www.actart77.com

Festival Electrochoc / Musiques électroniques et arts numériques - Bourgoin-Jallieu (Fr)


06/04/2008 - 19/04/2008 :

http://lesabattoirs.bourgoinjallieu.fr

La Maison du Savoir - Saint Laurent de neste (Fr)


07/04/2008 - 22/04/2008 :

www.neste-nistos.com

Médiathèque de Gradignan - Gradignan (Fr)


18/03/2008 - 22/03/2008 :

www.lamediathequedegradignan.fr

Fêtes des Lumières 2007 - Lyon (Fr)


06/12/2007 - 09/12/2007 :

www.lumieres.lyon.fr

Digitalis 07 / Festival d'art numériques en Lozère - Mende (Fr)


12/11/2007 - 17/11/2007 :

www.festival-digitalis.info

Le Carré des Jalles / Centre culturel - St-Médard-en-Jalles (Fr)


23/10/2007 - 16/11/2007 :

www.carredesjalles.org

Nuit Blanche / Art contemporain et musiques actuelles - Amiens (Fr)


06/10/2007 - 06/10/2007 :

www.nuitblancheamiens.com

Médiathèque Gabriela Mistral - Artigues (Fr)


18/09/2007 - 22/09/2007 :

www.mediatheque-artigues.com

Médiathèque Les Colonnes - Blanquefort (Fr)


10/09/2007 - 17/09/2007 :

http://mediatheque.ville-blanquefort.fr

Streamfest 2007 / Festival di arti elettroniche dedicato alle emergenti culture digitali - Lecce (Italia)


26/07/2007 - 28/07/2007 :

www.streamfest.it

Les Féeries nocturnes / Festival d'arts numériques - Embrun (Fr)


26/05/2007 - 03/06/2007 :

www.feesdhiver.fr

Jardin botanique de Neuchâtel - Neuchâtel (Switzerland)
La nuit des musées


19/05/2007 - 19/05/2007 :

www2.unine.ch/jardin - www.nuitdesmusees.culture.fr

Nicéphore Days - Chalon-sur-Saône (Fr)


08/12/2006 - 14/12/2006 :

www.nicephoredays2006.com

Centre d'exposition les Réservoirs - Limay (Fr)


19/09/2006 -22/10/2006 :

http://lesreservoirs.free.fr

Le Féesti'Val / Fées d'Hiver - Crévoux (Fr)


17/07/2006 - 23/07/2006 :

www.feesdhiver.fr







Scenocosme : Gregory Lasserre & Anais met den Ancxt - www.scenocosme.com