FR / EN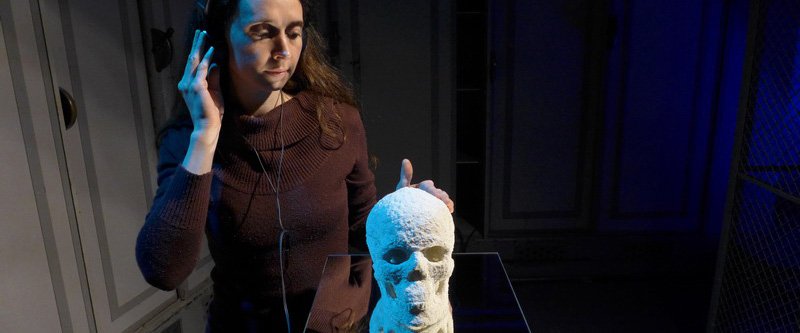 News | Artworks | Biography | Publications | Exhibitions | Contact
Cogito ergo sum
Sensitive and interactive salt skull
Scenocosme : Grégory Lasserre & Anaïs met den Ancxt




Presentation PDF + Photos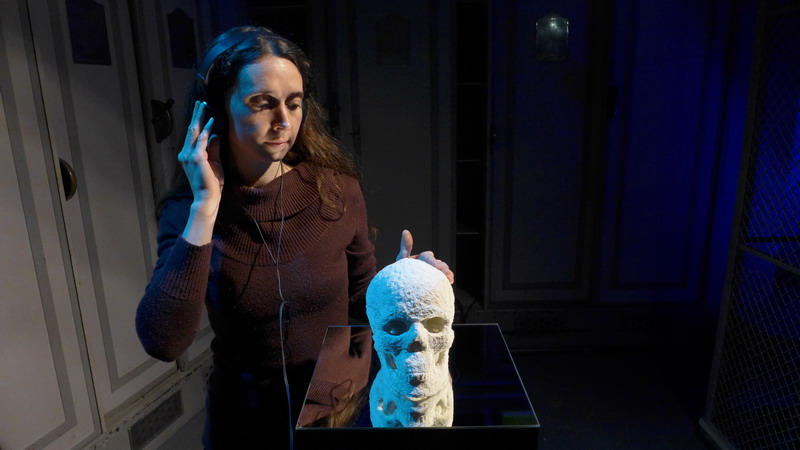 Cogito ergo sum: Sound and interactive salt skull
This interactive artwork is composed of a salt skull fixed to a mirror on the top of a pedestal and a headphone.
The skull is made of several interactive zones which produce sounds with electrostatic contact of the visitor. The spectator is invited to put the headphone in order to explore with his hands the different zones of the salt skull. This intimist staging generates a symbolic mirror between the salt skull and the head of the visitor.
The positioning of the hands over the different areas of the work affects the sound spatialization. The quality of gestures, the intensity of contacts and electrostatic energies reveal and change the various polyphonic sound textures associated with each of the areas of the soundscape. The interactive installation offers a sound exploration, meditative and intuitive of this unknown place that contains our thought. It is a sound interpretation of the geographical location where our thoughts are built, this terra incognita that is inside our head. This sound sculpture is made of salt, material both hard, precious, irritating, fragile and porous, which marks our skin.
Salt is essential to life. It is one of the indispensable components of the human body, found inside bones, blood or cells as well. It is not only a part of our internal biological landscape but also landscapes that surround us : in its form strong and rocky, or liquid, diluted in the sea. Containing and content are thus mirrored in that skull of salt.
The sound design is based on the binaural method. Each part of the skull reacts by a different sound which evolves in texture and spatialisation according to the exploration of the surface. It is an organic soundscape which is listened in an intimist way. The visitor explores a singular anatomical and emotional excavation of an unknown and internal place, but full of geographical locations.
Coproduction : Artois Comm./Labanque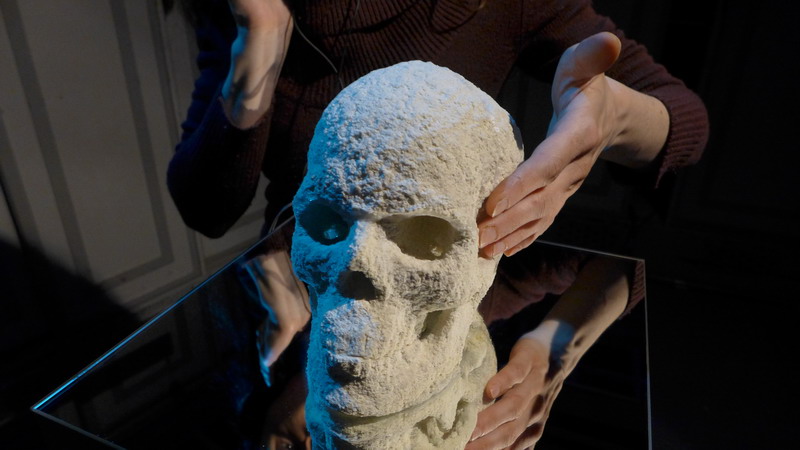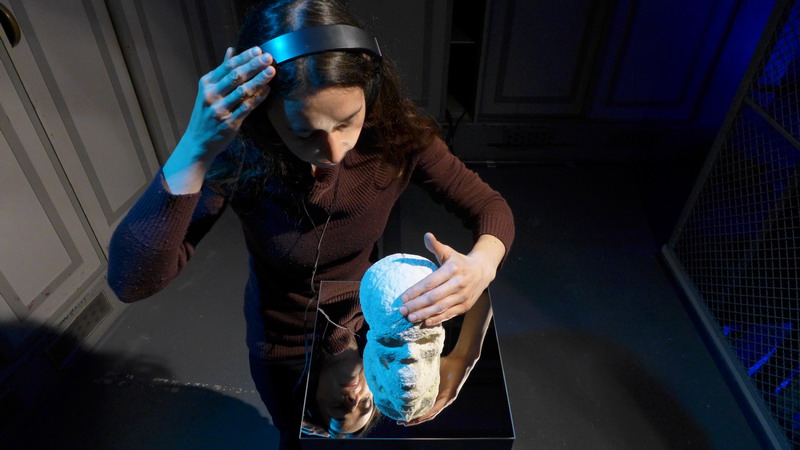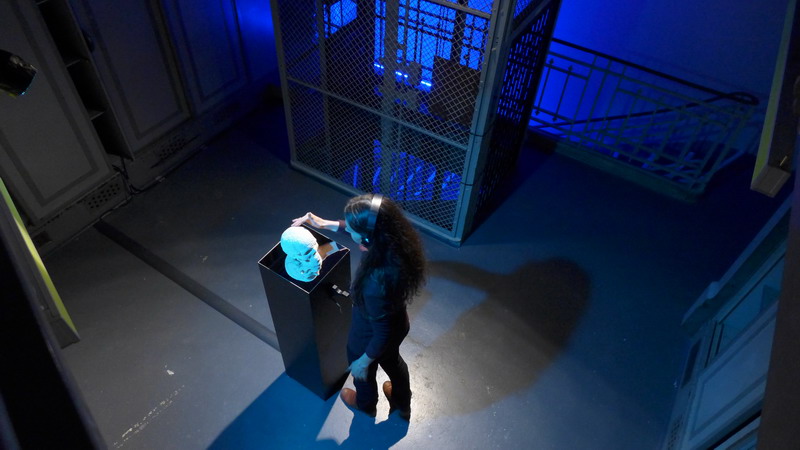 Previous exhibitions of Cogito ergo sum
Festival Accès-s #21 - culture(s) électronique)s - Pau (Fr)
Le Bel Ordinaire - espace d'art contemporain - Billère (Fr)
"La Chose mentale" : des NFT (Non Fungible Token) à l'œuvre…
Curator : Jean Jacques Gay


06/10/2021 - 27/11/2021

: www.acces-s.org - https://belordinaire.agglo-pau.fr

Château de la Veyrie - Bernin (Fr)
"Présence"
Curator : Gilles Fourneris


13/09/2019 - 20/10/2019



Centre d'art Les Églises - Chelles (Fr)
Solo show


08/02/2019 - 17/03/2019



L'arteppes - espace d'art contemporain - Annecy (Fr)
Solo show


29/11/2018 - 30/12/2018

:

www.larteppes.org

Biennale ArtFareins 2018 / Château Bouchet - Fareins (Fr)
Curator : Jacques Fabry


01/06/2018 - 15/07/2018 :

www.artfareins.com

Centre Pompidou - Paris (Fr)


16/11/2017 - 16/11/2017

: www.centrepompidou.fr

Lab71 / Science Innovation Culture / Département de Saône-et-Loire - Dompierre-les-Ormes (Fr)
Sans décoder - Festival des cultures numériques
Curator : Anne Laviron


24/11/2017 - 26/11/2017

:

www.sansdecoder71.fr

L'Angle - espace d'art contemporain - La Roche-sur-Foron (Fr)
Résonance - Scenocosme : Gregory Lasserre & Anais met den Ancxt
Curator : Marion Dupressy
08/09/2017 - 21/10/2017

:



Labanque / Centre de production et diffusion en arts visuels - Béthune (Fr)
Empathies - Scenocosme : Gregory Lasserre & Anais met den Ancxt
Curator : Philippe Massardier
01/04/2017 - 23/07/2017

:

www.lab-labanque.fr




Scenocosme : Gregory Lasserre & Anais met den Ancxt - www.scenocosme.com