FR / EN

News | Artworks | Biography | Publications | Exhibitions | Contact
Kymapetra
The singing stones
scenocosme : Gregory Lasserre & Anais met den Ancxt


Presentation PDF + Photos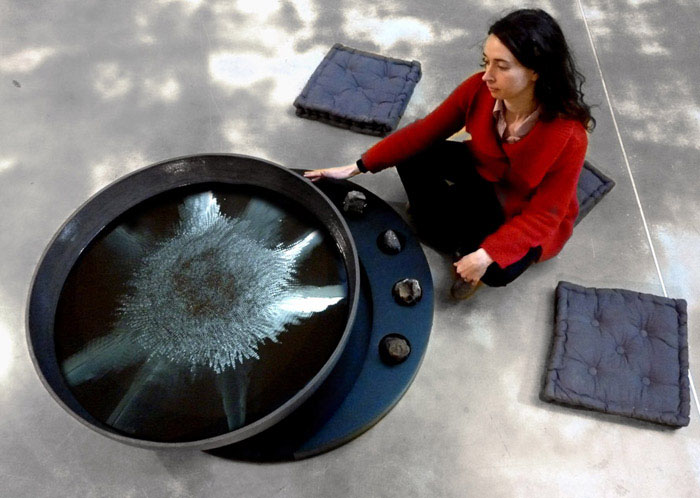 Through a poetic approach, Kymapetra is a sonorous interactive artwork which pay a special attention to certain minerals and stones : their various forms are forged by time, broken, polished, composite or fossilized, each with a natural vibration and history.



Five stones surround a bowl filled with water. When a visitor puts his hand above one stone, he enters in resonance with the stone, and creates sonorous vibrations at the surface of water. Geometric drawings made of small waves then vary according to stones and intensity of body's electrostatic energy.






Abbaye de Noirlac / Centre culturel de rencontre - Noirlac (Fr)



More photos...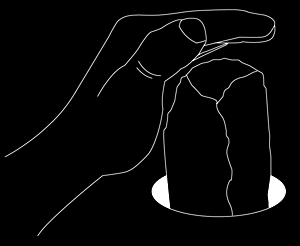 The spectator puts his hands above the stones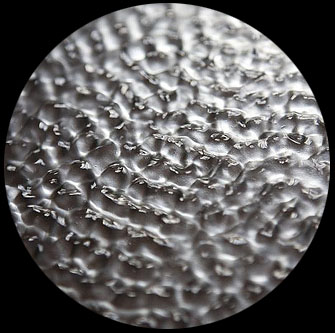 Different forms of sound waves appear on the surface of the water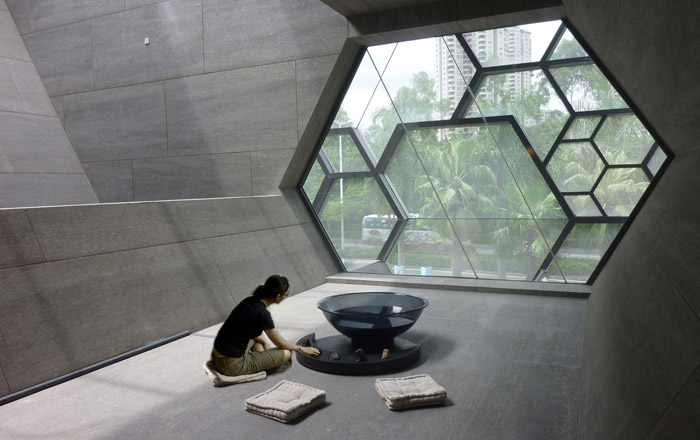 The OCT Art and Design Gallery - Shenzhen (China)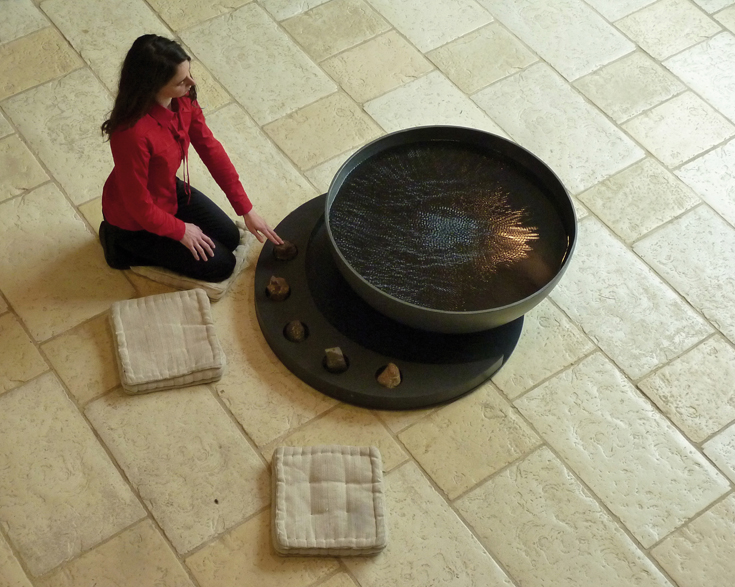 L'espinoa - Espace culturel - Baignes (Fr)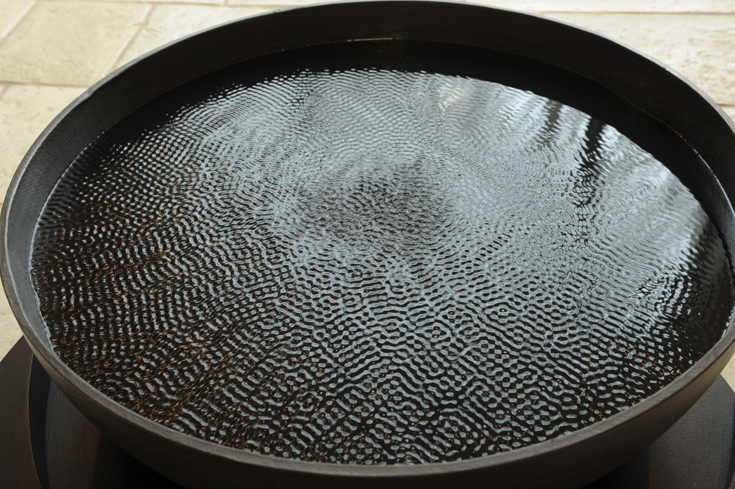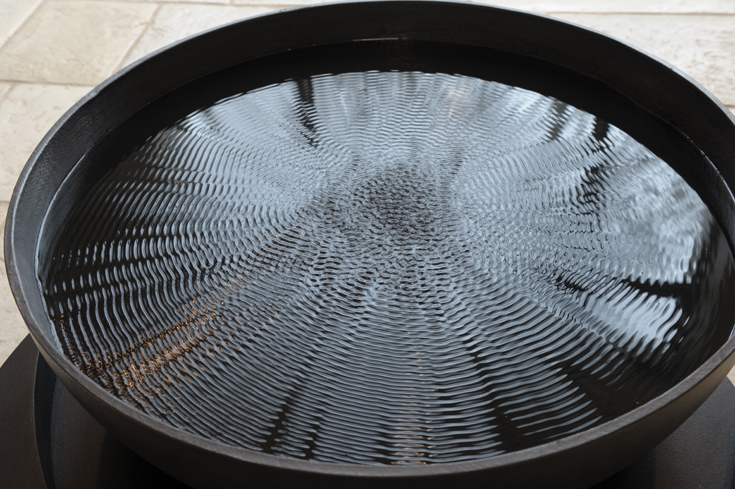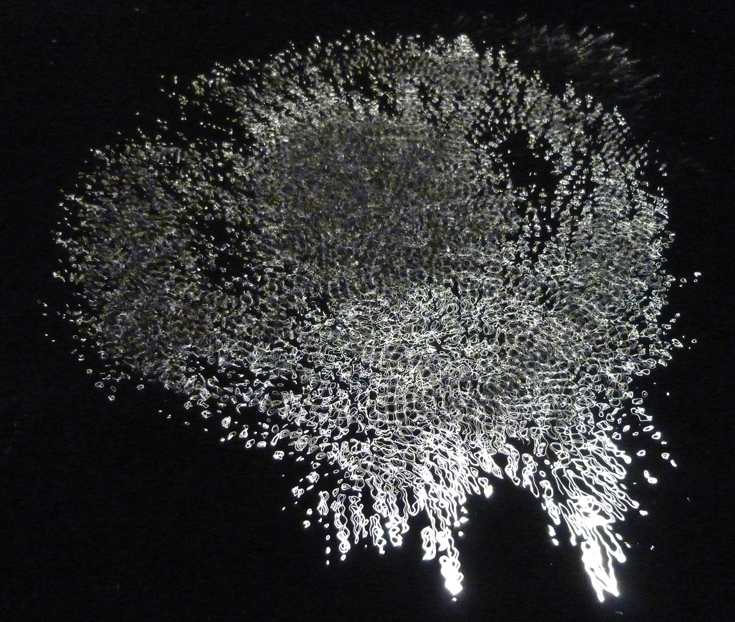 Previous exhibitions of Kymapetra
City Sonic – International Sound Art Festival -
Louvain-La-Neuve (
Belgium
)
Curator : Philippe Franck, Jaques Urbanska
21/11/2019 - 01/12/2019
: www.citysonic.be
EDIS / Fonds de dotation à l'art des nouveaux médias - Avignon (Fr)
Musée Louis Vouland
"Hortus 2.0"
Curator : Véronique Baton
01/06/2017 - 30/09/2017
: www.edis-fondsdedotation.fr
,
www.vouland.com
28èmes Rencontres Cinéma-Nature : Festival de nature et d'environnement - Dompierre-sur-Besbre (Fr)
07/04/2017 - 09/04/2017
Abbaye bénédictine Saint-Fortuné de Charlieu - Charlieu (Fr)
Résonances végétales et minérales
18/06/2016 - 18/09/2016 : www.loire.fr/jcms/c_576172/labbaye-benedictine-de-charlieu
Musée de Millau et des Grands Causses - Millau (Fr)
Mémoire du temps
19/12/2015 - 07/04/2016 : www.museedemillau.fr

Château de Saint-Priest - Saint-Priest (Fr)


08/10/2014 - 12/10/2014 :



Festival Némo - Festival Arts Numériques d'Arcadi
Espace culturel Les 26 Couleurs - Saint-Fargeau-Ponthierry (Fr)
Curator : Gilles alvarez & Julien taďb
06/12/2013 - 08/12/2013 : www.arcadi.fr

Lille 3000 / Gare Saint-Sauveur - Lille (Fr)
Natures artificielles / Curator : Charles Carcopino
03/05/2013 - 13/08/2013 : www.lille3000.eu

Festival International EXIT / Maison des Arts de Créteil - Créteil (Fr)
Natures artificielles / Curator : Charles Carcopino
04/04/2013 - 14/04/2013 : www.maccreteil.com

Festival International VIA - Maubeuge (Fr)
Natures artificielles / Curator : Charles Carcopino
14/032013 - 24/032013 : www.lemanege.com

Château de Ratilly Centre d'art vivant - Treigny (Fr)
24/03/2013 - 17/06/2013 : www.chateauderatilly.fr

Musée du château de Flers - Villeneuve-d'Ascq (Fr)


15/09/2012 - 16/09/2012 :



Eastern Edge Gallery
Sound Symposium - International festival of new music and art - St John's (Canada)
07/07/2012 - 05/08/2012 :  www.easternedge.ca - www.soundsymposium.com

Musée d'Archéologie et de Préhistoire de la Martinique - Fort-de-France (Martinique)


19-31 mai 2012 :



Centre Culturel Bellegarde - Toulouse (Fr)
Festival Empreintes Numériques
25/04/2012- 10/05/2012 : www.bellegarde.toulouse.fr - www.empreintes.toulouse.fr

L'espinoa - Espace culturel - Baignes (Fr)
23/03/2012 - 20/04/2012 : www.espinoa.com

Centre Culturel René Char - Digne-les-Bains (Fr)


08/11/2011 - 18/11/2011 :



The OCT Art and Design Gallery - Shenzhen (China)
OCT Contemporary Art Terminal
Festival croisements - Augmented senses
Curator : Yan Xiaodong, Charles Carcopino
Soutien : Ambassade de France en Chine
12/08/2011 - 11/09/2011 : www.faguowenhua.com/croisements - www.ocatshanghai.com

The OCT Shanghai Suzhou creek - Shanghai (China)
Festival croisements - Augmented senses
Curator : Yan Xiaodong, Charles Carcopino
Soutien : Ambassade de France en Chine
28/06/2011- 31/07/2011 : www.faguowenhua.com/croisements

Déclics festival / L'Agora - Nanterre (Fr)
26/04/2011 - 15/05/2011 : www.nanterre-multimedia.net

Maison Populaire - Montreuil (Fr)
03/01/2011 - 22/01/2011 : www.maisonpop.net

L'abbaye de Noirlac / Centre culturel de rencontre - Noirlac (Fr)
Les univers interactifs de Scenocosme
18/09/2010 - 19/09/2010 : www.abbayedenoirlac.fr

Musée d'Art et d'Histoire de St-Brieuc - St-Brieuc (Fr)

15/05/2010 - 20/09/2010
: www.saint-brieuc.fr 

Médiathèque François-Mitterrand - Saintes (Fr)


27/03/2010 - 27/03/2010 :



Fête de la musique - St-Julien-en-Genevois (Fr)


21/06/2009 - 21/06/2009 :



Les Féeries nocturnes / Festival d'arts numériques - Embrun (Fr)
20/05/2009 - 24/05/2009 : www.feesdhiver.fr

Festival Electrochoc / Les Abattoirs - Bourgoin-Jallieu (Fr)
26/03/2009 - 11/04/2009 : www.lesabattoirs.fr

Centre arc en ciel - Liévin (Fr)
10/10/2008 - 08/11/2008 : www.arcenciel-lievin.fr

Festival Musiques de rues - Nouveau territoire des arts sonores - Besançon (Fr)
02/10/2008 - 05/10/2008 : www.musiquesderues.com

Musée départemental de Préhistoire d'Ile-de-France - Nemours (Fr)
"Scenocosme : Alchimie des sens" 
20/09/2008 - 29/09/2008 : www.actart77.com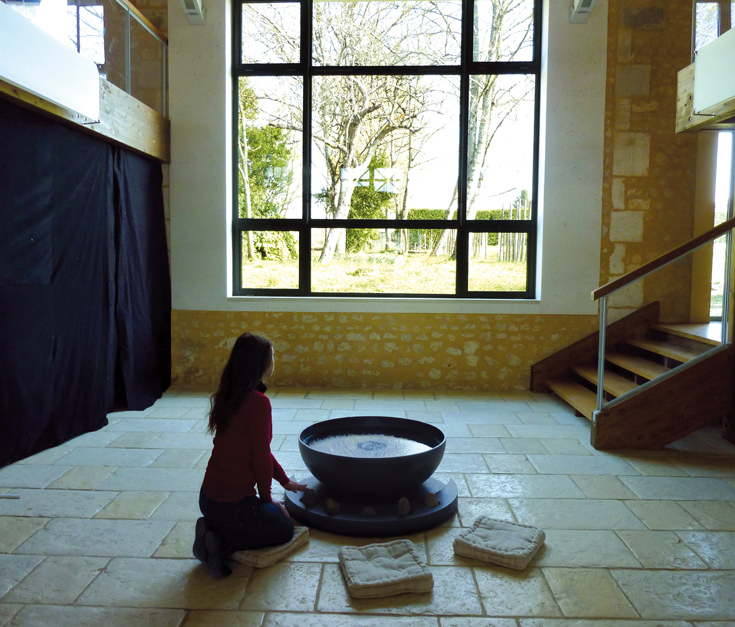 Scenocosme : Gregory Lasserre & Anais met den Ancxt - www.scenocosme.com