FR / EN

News | Artworks | Biography | Publications | Exhibitions | Contact

Fluides


Liquid interactive installation
Scenocosme : Grégory Lasserre & Anaïs met den Ancxt




Presentation PDF + Photos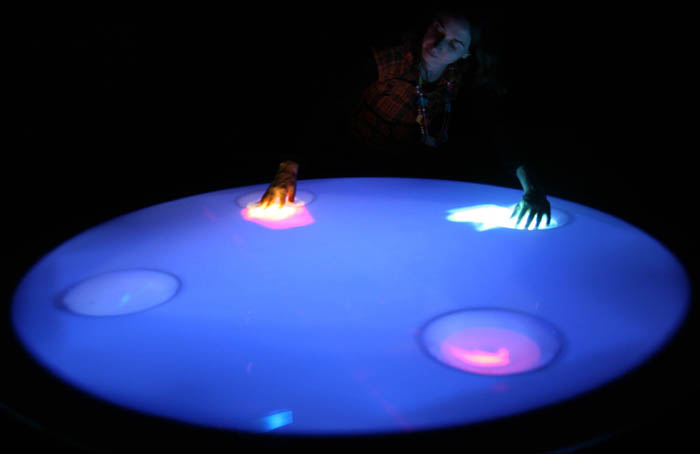 Fluides is an organic and reactive artwork where a sensitive water gathers energy from spectators' hands. This water is a unifying thread which conducts bodies' energies in the center of the installation through infinite sonorous and luminous fluids landscapes. According to the intensity of energy and to various interactions of audience, different luminous and sonorous waves appear and disappear at the surface.

Evolutive sonorities, generated by audience compose meditative atmospheres.
The installation concentrates spectators around a sensory artwork that encourages them to think about fragile relationships between bodies, energy, organic matters, lights and sounds. When someone touches the water lightly, it creates a luminous wave which shines until the center of the installation. Each light variation is accompanied by a sound which fluctuates according to the intensity of energy.


Coproduction :
La Maison des Arts de Créteil : www.maccreteil.com, le Manège de Maubeuge : www.lemanege.com, Lille3000 : www.lille3000.eu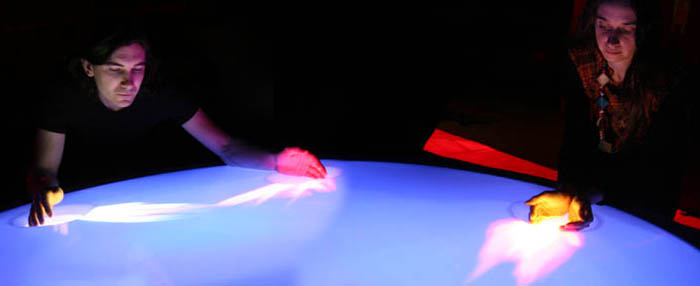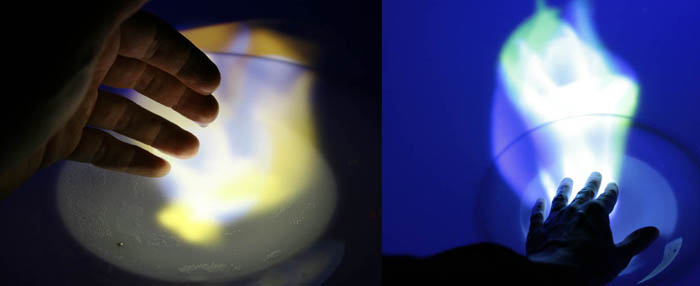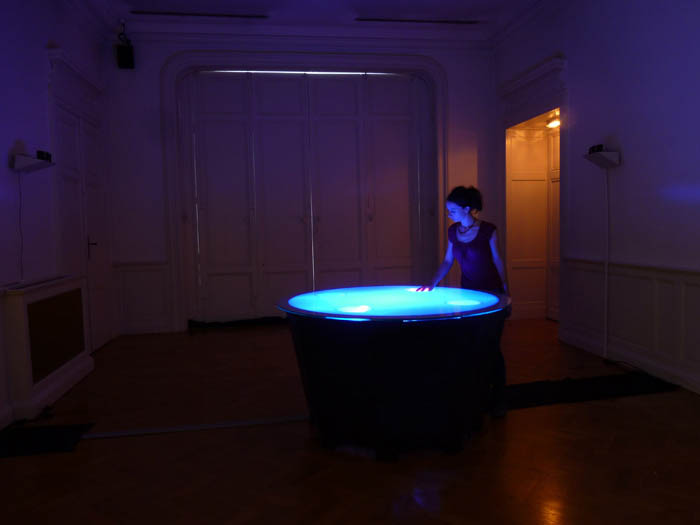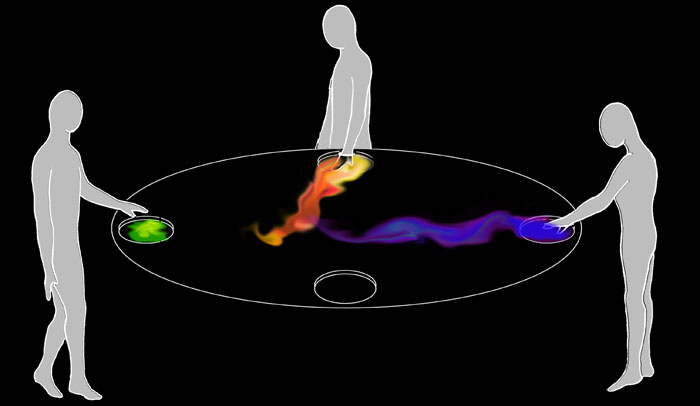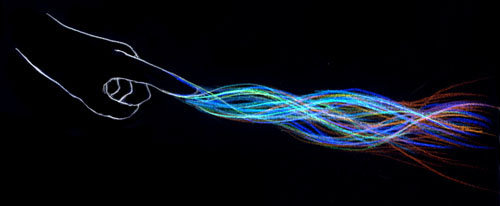 Reportage : Mois Multi / festival international en arts multidisciplinaires et électroniques - Québec (Canada)



Previous exhibitions of Fluides

Musée de la mine - Saint-Étienne (Fr)


06/10/2019 - 06/10/2019

:

www.musee-mine.saint-etienne.fr

Espace d'exposition Artothèque de Saint-Priest - Saint-Priest (Fr)
11/10/2016 - 16/10/2016 :

Mons 2015 - Capitale Européenne de la Culture - Mons (Belgium)


26/06/2015 - 27/06/2015 :

www.mons2015.eu

Musée Savoisien / Nuit des musées - Chambéry (FR)


17/05/2014 - 18/05/2014 :

www.musee-savoisien.fr

Mois Multi / festival international en arts multidisciplinaires et électroniques
Recto-Verso / Méduse arts actuels - Québec (Canada)
Curator : Viviane Paradis


14/02/2014 - 23/02/2014 :

www.mmrectoverso.org

Abbaye de l'Escaladieu - Bonnemazon (FR)
Horizons numériques


07/09/2013 - 08/09/2013



Centre Le Manège - Chambéry (FR)


14/12/2012 - 14/12/2012 :



Nuit blanche - Amiens (FR)


13/10/2012 - 13/10/2012



Centre Culturel Bellegarde - Toulouse (FR)
Festival Empreintes Numériques
25/04/2012 - 10/05/2012 : www.bellegarde.toulouse.fr - www.empreintes.toulouse.fr

Ingràvid - festival de cultura contemporánea - Figueras (Spain)
Museu empordà
10/11/2011 - 13/11/2011 : www.festivalingravid.com

La Nuit Défendue / Médiathèque Jacques Ellul - Pessac (FR)


30/09/2011 - 30/09/2011 :



Lille 3000 / Gare Saint-Sauveur - Lille (FR)
Curator : Charles Carcopino
13/04/2011 - 14/08/2011 : www.lille3000.com

Festival International VIA - Maubeuge (FR)
Curator : Charles Carcopino
24/03/2011 - 03/04/2011 : www.lemanege.com

Festival International EXIT / Maison des Arts de Créteil - Créteil (FR)
Curator : Charles Carcopino
10/03/2011- 20/03/2011 : www.maccreteil.com

Scenocosme : Gregory Lasserre & Anais met den Ancxt - www.scenocosme.com