FR / EN

News | Artworks | Biography | Publications | Exhibitions | Contact

Phonofolium


Interactive and sonorous tree
scenocosme : Grégory Lasserre & Anaïs met den Ancxt




Presentation PDF + Photos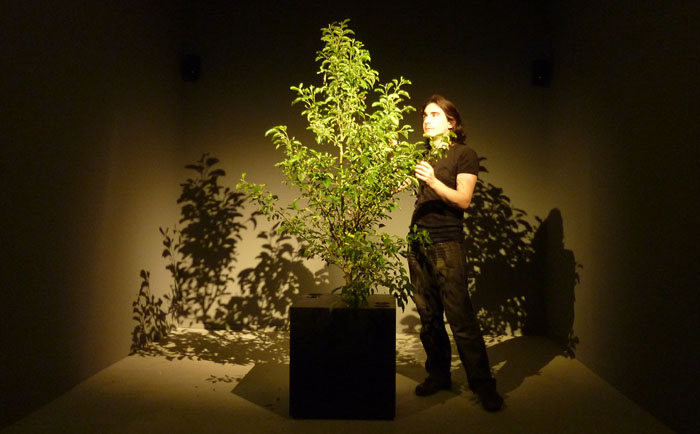 Phonofolium is an interactive artwork with a living tree reacting to the human touch by a sound, a voice. This tree «language» occurs through touch and the close proximity of the spectators, thanks to their electrostatic energy. The tree sings when the audience is touching or stroking lightly it.

In their artwork, the artists Scenocosme create hybrids between plants and digital technology. Plants are natural sensors and are sensitive to various energy flows. Digital technologies permit them to establish a relationship between plants and sound. They display the effects of random data flow and plant interaction. The data is modified as the spectator meanders around and touches the installation, resulting in a random musical universe. Audience contacts with plants generate sound effects and change in the texture of the sound. There is a specific vegetal language through sonorous compositions. They signify a character, a behavior having a feedback, an influence on the reaction, on the feeling and on the approach of the spectator.

Mixing reality with imagination, Scenocosme offer a sensory experience that encourages us to think about our invisible relationship with other living being. Phonofolium let us know about their existence by a scream, a melody or an acoustical vibration.




Musée de la Préhistoire des Gorges du Verdon - Quinson (Fr)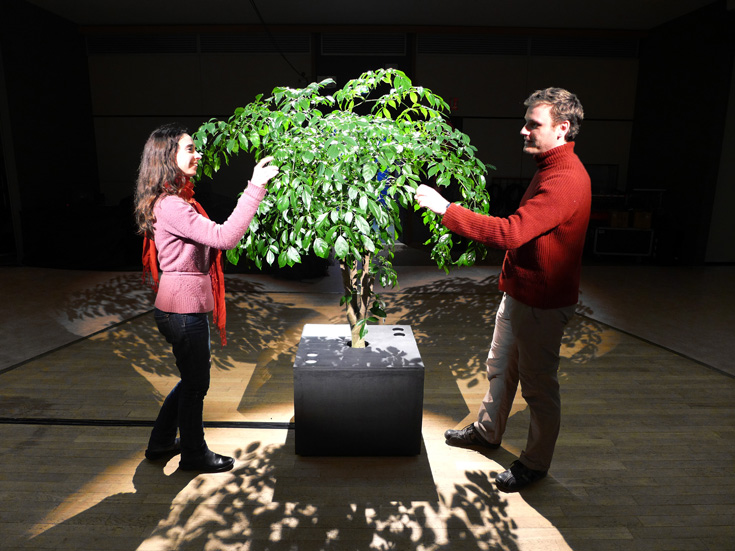 Festival des Arts numériques RVBn / Espace Albert Camus - Bron (Fr)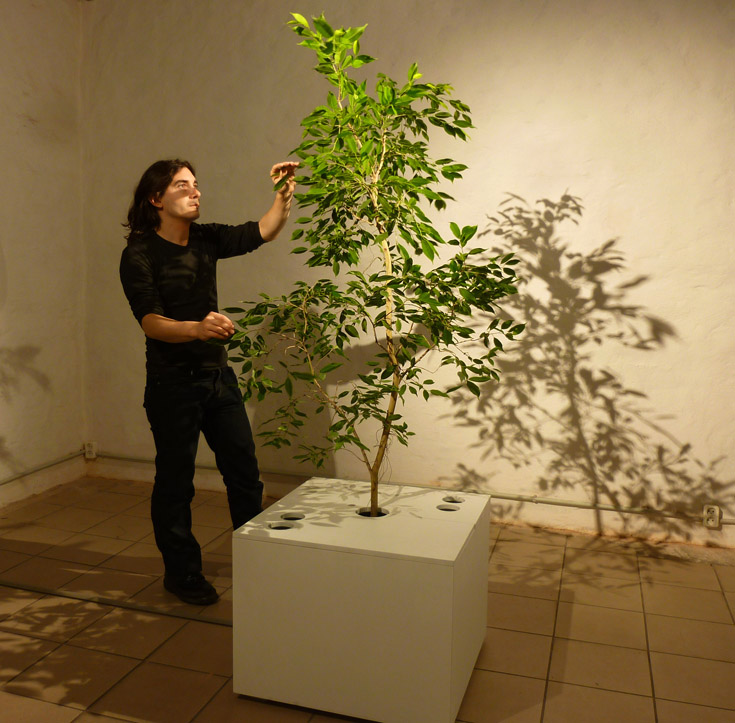 KIM? Contemporary Art Centre - Riga (Latvia)

Previous exhibitions of Phonofolium

Château de Versailles (Fr)
"Sens et Essences à Trianon"
Nocturne abonnés 1 an à Versailles


30/06/2023 - 30/06/2023

:

www.chateauversailles.fr

Festival Experimance - Sarrebruck (Germany)
Curators : Kathrin Lambert, Katharina Hamp


14/07/2023 - 16/07/2023

:

www.experimance.de

Eglise de Peyre - Peyre (Fr)
Festival Changez d'airs
Curator :Philippe Valentin


24/07/2023 - 30/07/2023



Maison du livre, de l'image et du son - Villeurbanne (Fr)
Festival Pop'sciences


07/05/2023 - 14/05/2023



ArtBox Festival - Annecy (Fr)
Curator : CRR - Conservatoire de l'agglomération d'Annecy
03/12/2022 - 10/12/2022

Domaine Rockefeller - Faculté de Médecine Lyon-Est - Lyon (Fr)
« Êtres sensibles»


Solo show




19/09/2022

-

16/12/2022



Digital On, festival des cultures numériques - Maison des arts Paul Fort - Allones (Fr)


08/10/2022 - 08/10/2022



Festival of the New European Bauhaus - Brussels (Belgium)
KBR - Mont des Arts Bruxelles


09/06/2022 - 12/06/2022

:

www.new-european-bauhaus-festival.eu

Pavillon Duhamel / Square Brieussel-Bourgeois - Mantes-la-Jolie (fr)


22/04/2022 - 05/05/2022



Ancienne gare d'Aizenay, Espace d'exposition de l'Office de Tourisme - Vie-et-Boulogne (Fr)
curated by : Communauté de communes Vie et Boulogne


06/05/2022 - 25/06/2022



Quai des Arts - Cugnaux (Fr)


05/03/2022 - 21/05/2022



Centre culturel Espace Bonnefoy - Toulouse (Fr)


18/10/2021 - 27/11/2021



Biennale Internationale Saint-Paul de Vence - Saint-Paul de Vence (Fr)
Espace André Verdet
Curator : Catherine Issert


26/06/2021

-

02/10/2021

:

www.bis-art.com

Campus culturel la Marge - Lieusaint (Fr)
Journée de rencontre « numérique et création artistique »
Table ronde professionnelle
Curator : Act'art


12/10/2021 - 12/10/2021



Château de Goutelas – Centre culturel de rencontre en Forez - Marcoux (Fr)
"Nouvelles faunes"
Curator : Grégory Diguet


06/11/2020 - 19/09/2021

:

www.chateaudegoutelas.fr

Service culturel, Université Sorbonne Paris Nord / Campus de Bobigny (Fr)
Curator : Magali Terrier


09/10/2021 - 07/11/2021



Pôle culturel Le Petit Écho de la Mode - Châtelaudren (Fr)


07/10/2021 - 09/10/2021



Maison du Numérique - Communauté de communes des Monts du Lyonnais - Saint-Clément-les-Places (Fr)
Association Filigrane – Expressions Artistiques et Culturelle
"Résonance végétale"


21/09/2021 - 29/11/2021



ENSAPVS - Ecole Nationale Supérieure d'Architecture de Paris Val de Seine - Paris (Fr)
Exposition et Colloque "Arts écosystémiques, architectures algorithmiques"
Curator : Claire Bailly & Jean Magerand
15/03/2021 - 05/04/2021

:

www.biodigitalcity.org - www.paris-valdeseine.archi.fr

Médiathèque du Chevalet - Noyon (Fr)
Curator : Stéphane Capes


13/05/2021

-

13/07/2021



Scènes urbaines : Novaciéries - Saint-Chamond (Fr)


05/09/2020 -

22/11/2020



Département des Bouches-du-Rhône
"Tous aux arbres !"
Médiathèque Municipale - Saint-Martin-de-Crau (Fr)


28/09/2020 - 30/01/2021



Le Prisme - Centre culturel de la Ville d'Élancourt (Fr)
Solo show


18/01/2020 - 21/02/2020

:

www.leprisme.elancourt.fr

Maison des sciences de la ville de Bastia - Bastia / Corse (Fr)


01/02/2020 - 12/12/2020



Théâtre de Charleville-Mézières (Fr)
Curator : Anaïs Testart


07/02/2020 - 14/02/2020



Pléiades - Festival des arts numériques - Saint-Etienne (Fr)


06/11/2019 - 09/11/2019





Dak Nong Cultural Museum - Gia Nghia (Vietnam)
Explorasound
Curator : Guy Martini / UNESCO
30/06/2019 - 30/12/2022

Le Quai - CDN Angers Pays de la Loire - Angers (Fr)
"Incroyable Manufacture !"
08/10/2019 - 08/10/2019

Festival La Science de l'Art - Essonne (Fr)
"L'intelligence des plantes en question"
Curator : Alain Douté
www.sciencedelart.fr
20/11/2019 - 18/12/2019 : Centre culturel des Prés du Roy - Saint-Germain-lès-Arpajon (Fr)

SXSW (South by Southwest) - Austin (USA)
UNESCO Media Arts Exhibition / Gallery of the Austin Central Library
City of Austin Cultural Arts Division
08/03/2019 - 03/04/2019 : www.sxsw.com - www.austintexas.gov/mediaartscity

Centre Pompidou - Paris (Fr)
Museum Live
Curator : Marianne Berges
21/02/2019 - 21/02/2019 : www.centrepompidou.fr

Re-use exhibition / The Scientific Center Of Kuwait - (Kuweit)
Curators : Tim Terpstra, Emma Czerny, Zahed Sultan
11/01/2019 - 13/04/2019 :

Galerie Le Manège / Institut français de Dakar - Dakar (Sénégal)
Curator : Delphine Calmettes
Novembre numérique / pARTcours 7
(Solo show)
03/12/2018 - 31/01/2019

Festival Printemps d'Étoiles / Médiathèque Max-Pol Fouchet - Givors (Fr)
16/03/2019 - 30/03/2019

Parcours d'art numérique / Médiathèques de Thann / Cernay (Fr)
En partenariat avec l'Espace Multimédia Gantner
09/02/2019 - 30/03/2019

Festival Univers Numériques Ugine - Ugine (Fr)
Curator : Josselin Vinay
01/02/2019 - 02/02/2019 :

KIKK Festival - Festival of Digital & Creative Cultures - Namur (Belgium)
Curator : Marie du Chastel
01/11/2018 - 04/11/2018 : www.kikk.be

L'arteppes - espace d'art contemporain - Annecy (Fr)
Solo show
29/11/2018 - 30/12/2018 : www.larteppes.org

Chroniques - Biennale des Imaginaires Numériques & Lecture par Nature
Exposition d'art numérique itinérante dans les médiathèques de la Métropole Aix-Marseille-Provence
Curator : Seconde Nature - Arts et territoires numériques : www.secondenature.org
ZINC - Centre de Création des Arts et des Cultures numériques : www.zinclafriche.org
Soutien : Métropole Aix-Marseille-Provence, Département des Bouches-du-Rhône
04/12/2018 - 15/12/2018 : La Passerelle - Médiathèque de Vitrolles (Fr)
21/12/2018 - 12/01/2019 : Médiathèque Les Carmes - Pertuis (Fr)
19/01/2019 - 25/01/2019 : Médiathèque intercommunale ouest provence - Istres (Fr)
29/01/2019 - 09/02/2019 : Médiathèque Simone-Veil - La Ciotat (Fr)
12/02/2019 - 23/02/2019 : Médiathèque Nelson-Mandela - Gardanne (Fr)

Atheneum - Centre culturel de l'Université de Bourgogne - Dijon (Fr)
10/12/2018 - 02/22/2019

Espace Culturel La Buire / Médiathèque de L'Horme - L'Horme (Fr)
Itinérances
13/11/2018 - 24/11/2018

"Territoire numérique" / Médiathèques d'Epernay (Fr)
Solo show
20/10/2018 - 17/11/2018

Abbaye de l'Escaladieu - Bonnemazon (Fr)
"Arbres, regards d'artistes"
02/06/2018 - 16/09/2018 : www.abbaye-escaladieu.com

Carrefour des Arts de Lalouvesc / 30 ans - Lalouvesc (Fr)
07/07/2018 - 26/08/2018 :

Le Jardin des Fontaines Pétrifiantes - La Sône (Fr)
15/06/2018 - 15/07/2018 :

RIANA - Rencontres Internationales des Arts Numériques d'Abidjan - Abidjan (Côte d'Ivoire)
Curators : Jacob Bleu, Emmanuel Cuisinier
08/02/2018 - 10/02/2018 :

Centre Pompidou - Paris (Fr)
16/11/2017 - 16/11/2017 : www.centrepompidou.fr

Impact (International Meeting in Performing Arts and Creative Technologies) - Liège (Belgium)
Maison de la Science - Liège
Curator : Jonathan Thonon & Hervé Caps
10/11/2017 - 21/11/2017 : www.impact-regio.eu

Lab71 / Science Innovation Culture / Département de Saône-et-Loire - Dompierre-les-Ormes (Fr)
Sans décoder - Festival des cultures numériques
Curator : Anne Laviron
24/11/2017 - 26/11/2017 : www.sansdecoder71.fr

Technology & Emotions : Conference and exhibition about science, innovation and art - Oslo (Norway)
Sentralen - Meeting place, workshop and performance venue
07/11/2017 - 07/11/2017 : www.techem.live

Odyssud - Centre culturel - Blagnac (Fr)
Rencontres Sensibles - Scenocosme : Gregory Lasserre & Anais met den Ancxt
Curator : Maud Denjean
22/09/2017 - 23/12/2017 : www.odyssud.com

L'Angle - espace d'art contemporain - La Roche-sur-Foron (Fr)
Résonance - Scenocosme : Gregory Lasserre & Anais met den Ancxt
Curator : Marion Dupressy
08/09/2017 - 21/10/2017 :

Labanque / Centre de production et diffusion en arts visuels - Béthune (Fr)
Empathies - Scenocosme : Gregory Lasserre & Anais met den Ancxt
Curator : Philippe Massardier
01/04/2017 - 23/07/2017 : www.lab-labanque.fr

Büyük Efes Art Days / Swissotel Büyük Efes, İzmir - Izmir (Turkey)
24/02/2017 - 25/02/2017 : www.buyukefessanat.com/en/welcome_31.html

28èmes Rencontres Cinéma-Nature : Festival de nature et d'environnement - Dompierre-sur-Besbre (Fr)
07/04/2017 - 09/04/2017

Festival Regards Sur Les Arts Numeriques
Le Liberté - Scène Nationale de Toulon - Toulon (Fr)
28/01/2017 - 29/01/2017 : www.theatre-liberte.fr

ECAM - Espace Culturel André Malraux - Le Kremlin-Bicêtre (Fr)
13/01/2017 - 28/01/2017 : www.ecam-lekremlinbicetre.com

Palais de l'Archevêché / Octobre Numérique - Arles (Fr)
07/10/2016 - 30/10/2016 : www.octobre-numerique.fr

Musée éphémère d'art contemporain / La Maison Vaillant / Métamorphose - Verrières-le-Buisson (fr)
01/10/2016 - 02/10/2016 :

Le Déclic / Auditorium - Claix (Fr)
Hotel de Ville
Curator : Mickael Cohen
08/09/2016 - 05/12/2016 :

Détours - Art Contemporain en Terres de Cluny / Eglise romane de Malay - Malay (Fr)
02/07/2016 - 28/07/2016 :

Les Docks, cité de la mode et du design - Paris (Fr)
Play ! - Curator : Véronique Thouvenin
12/07/2016 - 21/08/2016 : www.citemodedesign.fr

Abbaye bénédictine Saint-Fortuné de Charlieu - Charlieu (Fr)
Résonances végétales et minérales
18/06/2016 - 18/09/2016 : www.loire.fr/jcms/c_576172/labbaye-benedictine-de-charlieu

Festival Zéro 1 / Art Numérique - La-Rochelle (Fr)
24/03/2016 - 26/03/2016 : www.festivalzero1.com

Centre culturel Le Safran - Amiens (Fr)
23/02/2016 - 27/02/2016 :

Lille3000 / L'Odyssée Médiathèque de Lomme - Lomme (Fr)
Quinzaine des arts du futur (Maison Folie Beaulieu)
Renaissance (Lille3000)
10/10/2015 - 04/11/2015 :

Nuit Blanche Paris / Maison Pour Tous Jules Vallès - Villejuif (Fr)
03/10/2015 - 03/10/2015 :

Château de Saint-Priest - Saint-Priest (Fr)
07/10/2015 - 11/10/2015 :

E-Fest / Digital Arts Festival - Tunis (Tunisia)
Palais Abdellia
Surface Sensible - Curator : Afif Riahi
03/10/2015 - 08/10/2015 : www.lefest.org

Festival ISI / Rencontres d'arts numériques - Montpellier (Fr)
03/09/2015 - 05/09/2015 :

Fort du Bruissin centre d'art contemporain - Francheville (Fr)
Vivant Numérique - Curator : Igor Deschamp
29/04/2015 - 19/07/2015 : www.mairie-francheville69.fr/index.php/Centre-d-art-contemporain?idpage=110

Festival des 7 collines - Saint Etienne (Fr)
02/07/2015 - 03/07/2015 : www.festivaldes7collines.com

Centre d'exposition Les Réservoirs - Limay (Fr)
04/06/2015 - 28/06/2015 : http://lesreservoirs.free.fr

Les Docks, cité de la mode et du design - Paris (Fr)
Qwartz Award : 10 years
10/06/2015 - 10/06/2015 : www.citemodedesign.fr - www.qwartz.fr

Hôtel-Dieu du Puy-en-Velay - Puy en Velay (Fr)
Puy de lumière - Curator : Anomalie
28/03/2015 - 30/05/2015 : www.biennale-design.com/saint-etienne/2015/en/biennial-off/?ev=puy-de-lumiere-96

Tour de Sauvabelin / La Fête de la forêt - Lausanne (Switzerland)
21/03/2015 - 21/03/2015 :

Ex – Cartiera Latina - Roma (Italia)
2025 Future Environment Human
Curator : Sofia Micciche / Giorgia Noto / Seven Oclock
12/02/2015 - 15/02/2015 : www.sevenoclock.it

King Abdullah University of Science and Technology - Thuwal (Kingdon of Saudi Arabia)
19/10/2014 - 25/10/2014 : www.kaust.edu.sa

MAG - Montreux Art Gallery - Montreux (Switzerland)
Montreux Music & convention centre
Art & New media Selection
05/11/2014 - 09/11/2014 : www.mag-swiss.com

Brighton Digital Festival / The New Sublime 2014 - Brighton (UK)
The Phoenix Gallery
06/09/2014 - 28/09/2014 : www.brightondigitalfestival.co.uk , www.thenewsublime.com , www.phoenix-gallery.com

Musée Savoisien / Nuit des musées - Chambéry (Fr)
17/05/2014 - 18/05/2014 : www.musee-savoisien.fr

Le tetris / Salle de spectacles pôle de création / Fort de tourneville - Le-Havre (Fr)
06/05/2014 - 06/06/2014 : www.letetris.fr

Unpainted / media art fair - Munich (Germany)
17/01/2014 - 20/01/2014 : www.unpainted.net

La Serre - espace d'exposition - St Etienne (Fr)
15/01/2014 - 15/02/2014 :

Centre culturel Jean-Paulhan - Nimes (Fr)
19/11/2013 - 12/12/2013 :

Bibliothèque Flora Tristan - Bordeaux (Fr)
01/10/2013 - 31/10/2013 :

Grynparkas festival / Embeded in nature - Kaunas (Lithuania)
Curator : Ina Pukelyte
Soutien : Institut Français
10/05/2013 - 12/05/2013 : www.grynparkas.lt

Espace Jean-Roger Caussimon - Tremblay-en-France (Fr)
Curator : Jocelyne Quelo
19/04/2013 - 18/05/2013 :

Espace culturel Saint-André - Abbeville (Fr)
08/03/2013 - 19/04/2013 :

RVBn - Festival des Arts numériques / Espace Albert Camus - Bron (Fr)
Curator : Igor Deschamps
07/02/2013 - 09/02/2013:

Abbaye de l'Escaladieu - Horizons numériques - Bonnemazon (Fr)
22/09/2012 - 23/09/2012 :

Concertgebouw - Brugge (Belgium)
Curator : Eveline Heylen
09/09/2012 - 09/09/2012 : www.concertgebouw.be

Simpósio Internacional Natureza: Arte e Ciência / UFMG Conservatory - Belo Horizonte (Brazil)
Curator : Rodrigo Minelli
26/06/2012 - 29/06/2012 : www.naturezaarteciencia.com.br

Centre culturel de rencontre - parc Jean-Jacques Rousseau - Ermenonville (Fr)
Rêveries numériques # 1 / Curator : Julie Miguirditchian / Digitalarti
28/06/2012 - 01/07/2012 : www.rousseau-2012.fr




La Gaîté lyrique / Pariszone@dream - Paris (Fr)
09/06/2012 - 10/06/2012 : www.gaite-lyrique.net

"Immersions Digitales" / Happen space - Tour Accenture - Paris (Fr)
Natural/Digital / Curator : Julie Miguirditchian / Digitalarti
04/06/2012 - 08/06/2012 : www.digitalarti.com

Centre Culturel Bellegarde - Toulouse (Fr)
Festival Empreintes Numériques
25/04/2012 - 10/05/2012 : www.bellegarde.toulouse.fr - www.empreintes.toulouse.fr

KIM? Contemporary Art Centre - Riga (Latvia)
Rixc - Techno-ecologies / Festival for New Media Culture Art
Curator : Rasa Šmite, Raitis Šmits, Eric Kluitenberg
04/11/2011 - 11/12/2011 : www.rixc.lv - www.kim.lv


Maison Folie hospice d'Havré - Tourcoing (Fr)
17/09/2011 - 16/10/2011 :

Musée de la Préhistoire des Gorges du Verdon / Quinson (Fr)
Transmissions
Soutien : Musée de Préhistoire de Quinson, Conseil général des Alpes de Haute Provence et la Province de Cunéo.
Programme interreg IV Alcotra, Plan intégré Transfrontalier "nouveau territoire d'itinérance"
14/05/2011 - 20/08/2011 :




Scenocosme : Gregory Lasserre & Anais met den Ancxt - www.scenocosme.com