FR / EN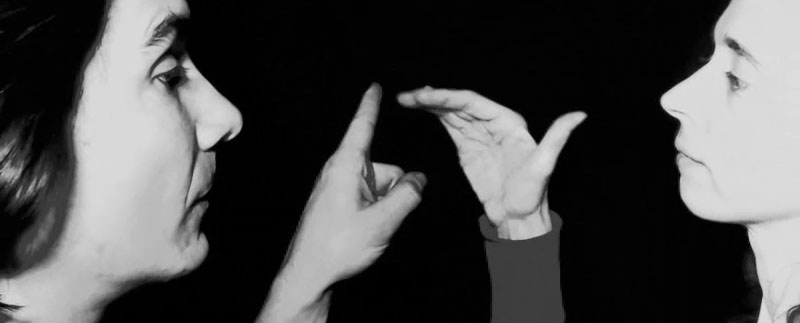 News | Artworks | Biography | Publications | Exhibitions | Contact

Distances


Interactive installation
Scenocosme : Grégory Lasserre & Anaïs met den Ancxt




Presentation PDF + Photos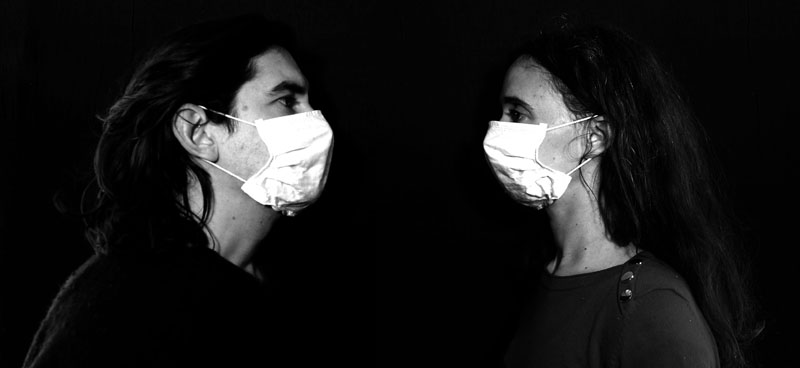 The interactive artwork "Distances" virtually brings together people who are not able to touch themselves physically.
This artwork was born in April 2020 in response to the Coronavirus crisis that forced us to be isolated and to have physical distances from the others.
In this installation, 2 persons in 2 separate physical spaces are filmed in real time by 2 devices. They are invited to have contact virtually within the same image bringing them together face to face. The head-to-head proposed by the software of the artwork is trying to constantly reduce the proxemic distance between the two persons.
The images of their faces, their hands are attracted and created unique ephemeral meetings with the other.
This artwork is participatory in its creative process for the 2 visitors interacting at the same time.
This staging is constantly renewed for the other groups of observer visitors who are in the exhibition space.
In this creation, we generate reactions and gestures from the spectators in response to virtual contacts.
These contacts give to the viewer strange and real feelings.
He can be amused, embarrassed, annoyed, or he can enjoy the limits of this new kind of contact.


This work is inspired by our precedent artwork "Rencontres imaginaires"



Equipment : 1 videoprojector or TV, 2 HD webcams, 1 computer, 1 piece of black fabric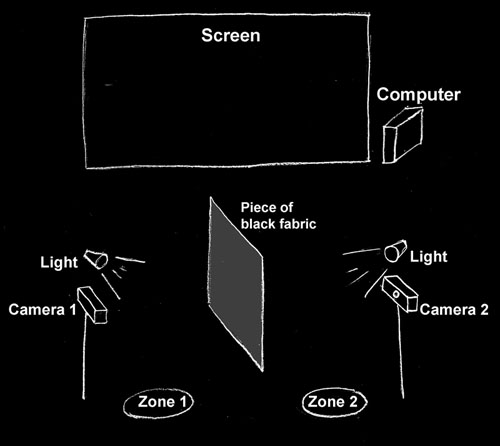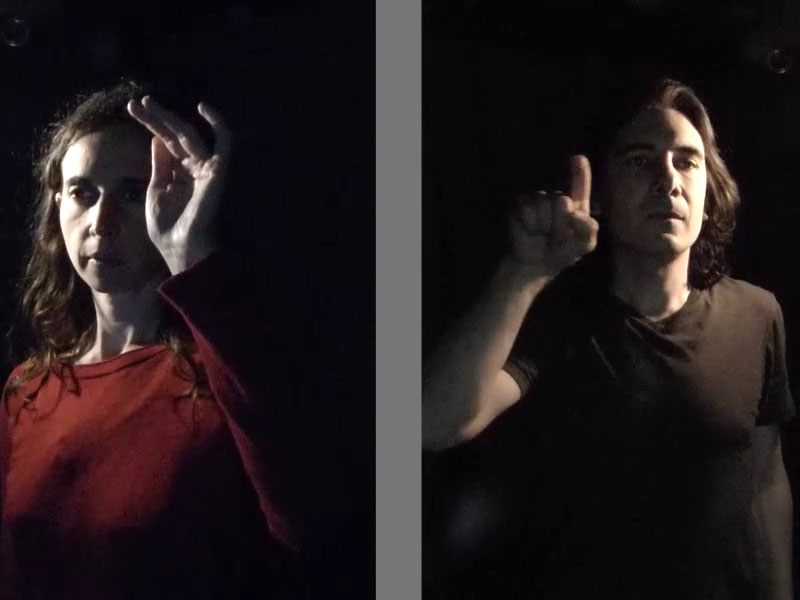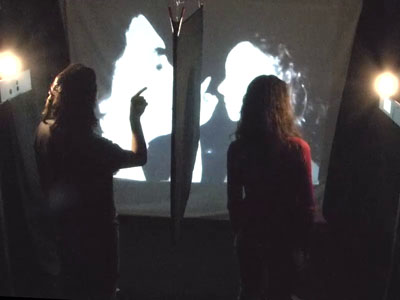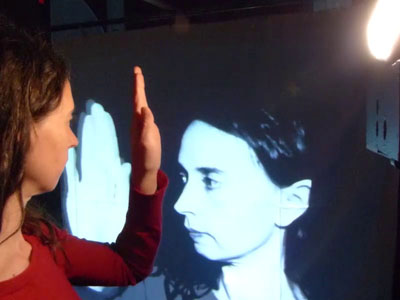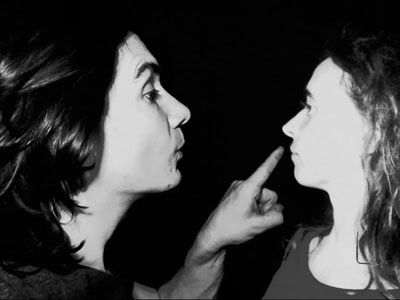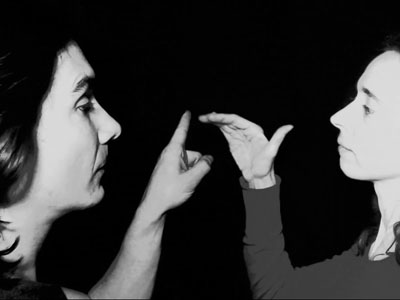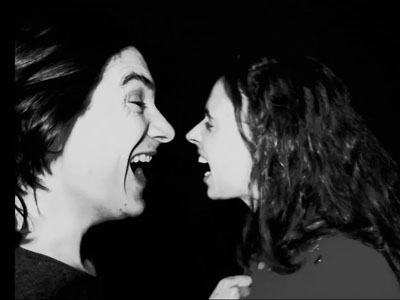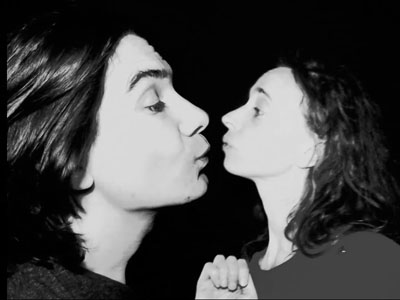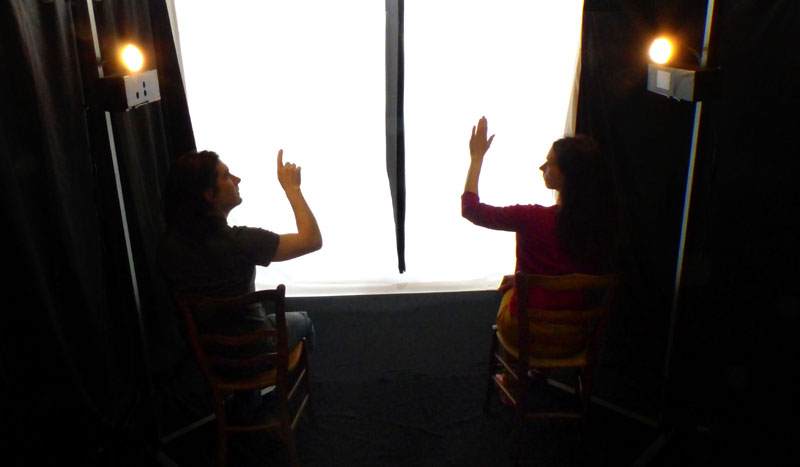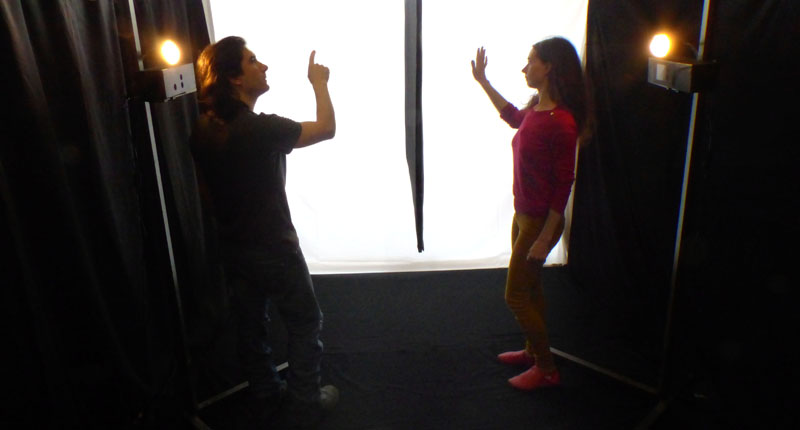 Coutts Art Center - Shanghai (China)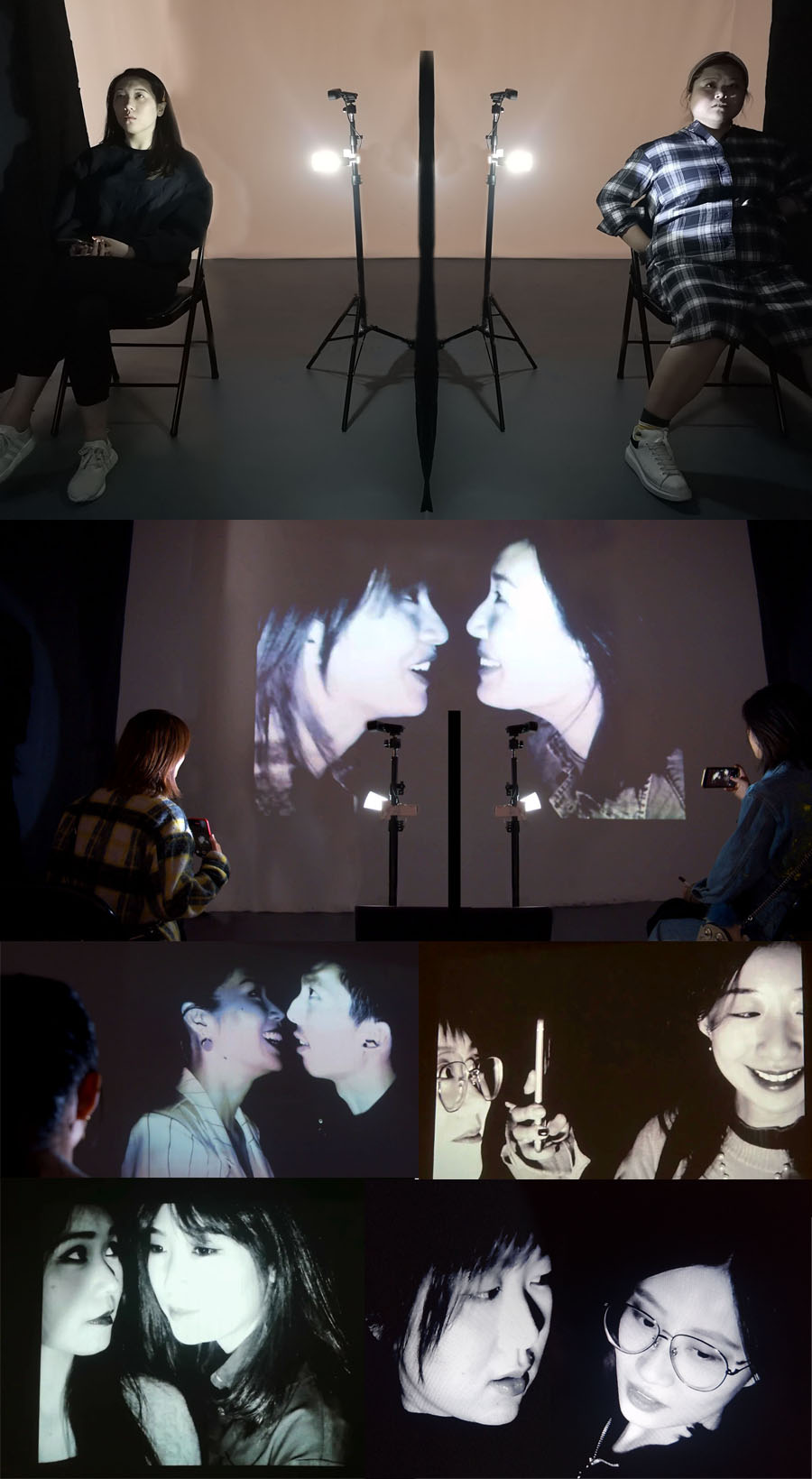 Institut Français de L'île Maurice - Beau-Bassin-Rose-Hill (Mauritius)
"Novembre numérique"
"Ce qui nous relie, digital humanity"



Quai des Savoirs - Toulouse (Fr)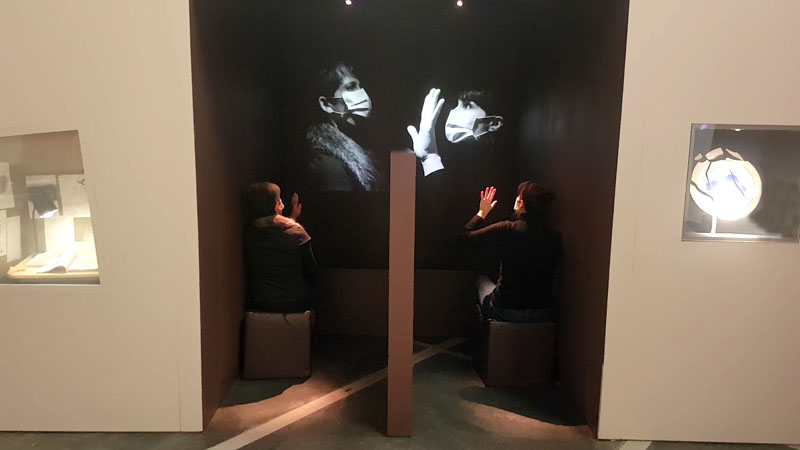 Previous exhibitions of "Distances"

Bienal de Arte Digital - Rio de Janeiro (Brasil)
Oi Futuro


16/11/2022 - 22/01/2023

: www.bienalartedigital.com

Festival Zéro 1 / arts hybrides et numériques

- La Rochelle (Fr)




13/04/2022 - 16/04/2022

: www.festivalzero1.com

Institut Français de Tunisie - Tunis (Tunisie)
Curator : Chérine Lakhdar


07/12/2021 - 07/01/2022

:

www.institutfrancais-tunisie.com

Digifest - Toronto (Canada)
"Phygital"
curator Alice Lee


19/11/2021 - 19/11/2021

:

www.torontodigifest.ca

404 festival - International Festival of Art & Technology - Rosario (Argentina)
"Humachinity"
curator Gina Valenti


06/11/2021 - 06/11/2021

:

www.404festival.com

DLECTRICITY - nighttime outdoor festival of art - Detroit (USA)
On the facade of the Detroit Institute of Arts (DIA)


24/09/2021 - 25/09/2021

: www.dlectricity.com

Lumière - contemporary arts festival - Cape-Breton island (Canada)


12/09/2021 - 25/09/2021

: www.lumierecb.com

DigiFest / CFP Durban University of Technology's - Durban (South-Africa)
Unmasked
Curator : Jodie Du Plessis


19/10/2021 - 21/10/2021

:

www.digifest.dut.ac.za

Festival Zéro 1 / arts hybrides et numériques
Galerie des hospices / Université de Limoges - Limoges (Fr)
Curator : Diego Jarak / Festival Zéro 1 / arts hybrides et numériques


24/09/2021 - 30/09/2021

: www.festivalzero1.com

Coutts Art Center - Shanghai (China)


29/05/2021 - 30/05/2021

:

www.couttsart.com

1M Sotto la Metro (One meter under the subway station) - Roma (Italy)
Roma Capitale
Curator Arianna Forte / Fusolab


26/05/2021 - 30/05/2021

: https://1msottolametro.it

Festival Internacional de la Imagen - Manizales (Colombia)
"Inter/species"
Talk


25/05/2021

: www.www.festivaldelaimagen.com

Institut Français de Tunisie - Tunis (Tunisie)
"Nuit des idées : Proches"
Curator : Chérine Lakhdar


28/01/2021 - 30/01/2021

:

www.institutfrancais-tunisie.com

Quai des Savoirs - Toulouse (Fr)
"De l'amour"
Curator : Maja Wasyluk


15/12/2020 - 07/11/2021

:

www.quaidessavoirs.fr

Coutts Art Center - Shanghai (China)
"Time Perception"
Curator : The Magnetic Project / Kendall Warson & Phoebe Zhang


31/10/2020 - 02/12/2020

:

www.couttsart.com

GIFF // Geneva International Film Festival - Geneve (Switzerland)


06/11/2020 - 15/11/2020

:

www.giff.ch
Cancel with the COVID

Institut Français de L'île Maurice - Beau-Bassin-Rose-Hill (Mauritius)
"Novembre numérique"
"Ce qui nous relie, digital humanity"


06/11/2020 - 30/11/2020

:

www.institutfrancais.mu

Le Parvis / lieu d'art et de spiritualité - Saint-Nazaire (Fr)
Curator : Aude Galpin


15/09/2020 - 17/10/2020 :

www.leparvissaintnazaire.fr

This artwork was born in April 2020 in response to the Coronavirus crisis that forced us to be isolated and to have physical distances from the others.




Scenocosme : Gregory Lasserre & Anais met den Ancxt - www.scenocosme.com