FR / EN

Actualités | Oeuvres | Biographie | Publications | Historique | Contact
"Entre fiction et réalité" Between fiction and reality
Interactive exhibition, photography and text
Scenocosme : Grégory Lasserre & Anaïs met den Ancxt


Scenocosme develops a project based on the concept of "invisible design".
They try to materialize invisible flows: climatic, electromagnetic, biological, energy, wich escape from our perception but raise of a scientific reality.
The awakening of these invisible data makes it possible to build a fictional universe which dialogues with a scientific / technical reality. The two artists of Scenocosme propose to work together on this concept of "invisibility". They develop an invisible territory nanoscopic, electromagnetic, or energetics which is sometimes between fiction and reality...




Akousmaflore
Sensitive and interactive musical plants

Akousmaflore is a small garden composed of living musical plants or flowers, which react to human gestures and light contact. Each plant reacts in a different way to contact by a specific sound. The plant language occurs through touch and the close proximity of the spectator : more information here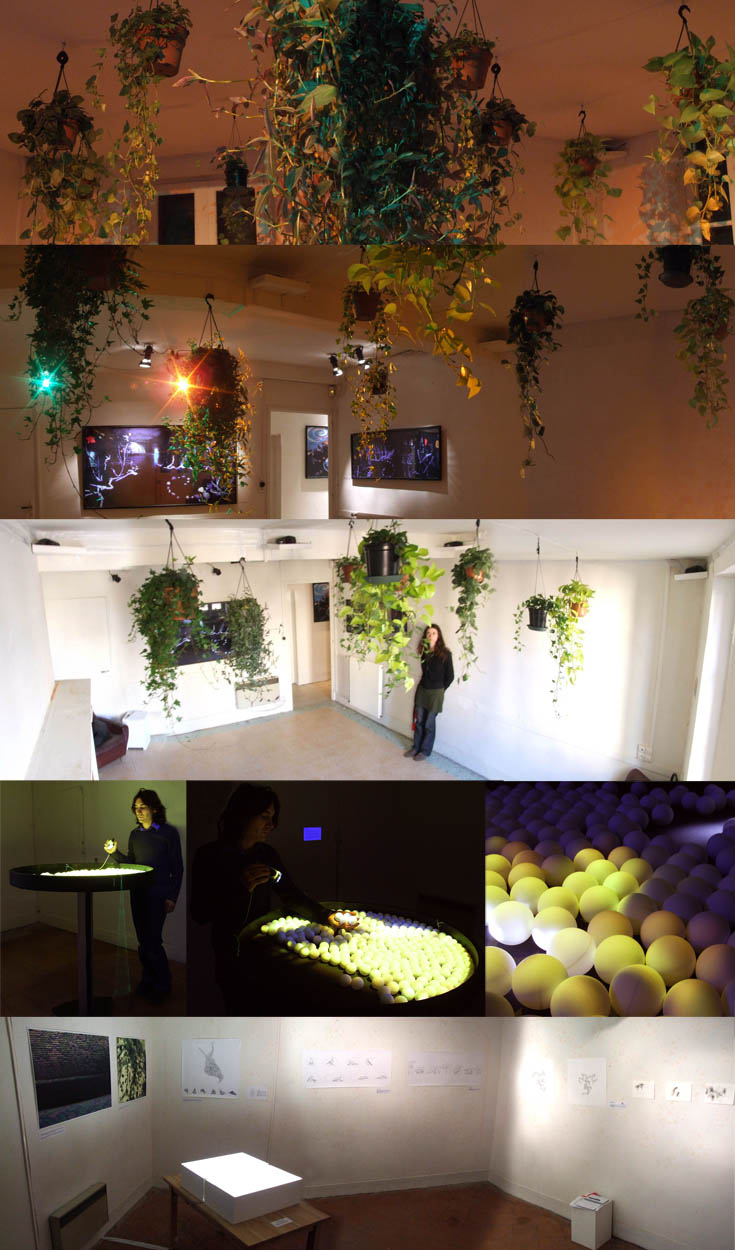 Ambre Fluide - Fluid Amber
Interactive installation

The spectators are invited to transmit the luminous energy of the flashlights to the small spherical particles present in this fictional microscope. This device permit to imagine the energy exchanges into the matter. The title refers to the word "elektron" used by the old Greeks to name the yellow amber. They had discovered that these stones produced small sparks and attractions on other element when one rubbed them.
The spheres react to the luminous flow and produce musical variation.
Progressively, the energy particles become exhausted, discharge until disappearing.












Previous exhibition of "Entre fiction et réalité"
Maison Salvan / Art & Science - Labège (Fr)
"Scenocosme : Entre fiction et réalité"


11/01/2008 - 02/02/2008 :

www.maison-salvan.fr



Scenocosme : Grégory Lasserre & Anaïs met den Ancxt - www.scenocosme.com
Dans leurs créations, les artistes de Scenocosme prennent en compte le corps du spectateur. Celui ci se retrouve souvent en interaction avec des interfaces numériques mises en scène de manière particulière lui offrant la possibilité de vivre des expériences multiples dans une réalité augmentée surprenante.